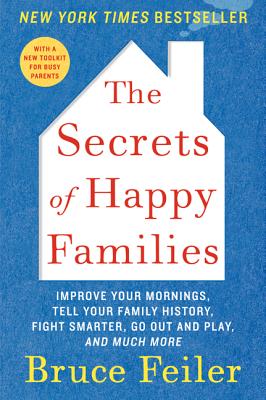 The Secrets of Happy Families
Improve Your Mornings, Tell Your Family History, Fight Smarter, Go Out and Play, and Much More
Paperback

* Individual store prices may vary.
Other Editions of This Title:
Digital Audiobook (2/18/2013)
Hardcover (2/19/2013)
Compact Disc (7/8/2014)
Compact Disc (7/8/2014)
Description
In The Secrets of Happy Families, New York Times bestselling author Bruce Feiler has drawn up a blueprint for modern families — a new approach to family dynamics, inspired by cutting-edge techniques gathered from experts in the disciplines of science, business, sports, and the military.
Don't worry about family dinner.
Let your kids pick their punishments.
Ditch the sex talk.
Cancel date night.
These are just a few of the surprising innovations in this bold first-of-its-kind playbook for today's families. Bestselling author and New York Times family columnist Bruce Feiler found himself squeezed between caring for aging parents and raising his children. So he set out on a three-year journey to find the smartest solutions and the most cutting-edge research about families. 
Instead of the usual family "experts," he sought out the most creative minds—from Silicon Valley to the set of Modern Family, from the country's top negotiators to the Green Berets—and asked them what team-building exercises and problem-solving techniques they use with their families. Feiler then tested these ideas with his wife and kids. The result is a fun, original look at how families can draw closer together, complete with 200 never-before-seen best practices.
Feiler's life-changing discoveries include a radical plan to reshape your family in twenty minutes a week, Warren Buffett's guide for setting an allowance, and the Harvard handbook for resolving conflict. The Secrets of Happy Families is a timely, counterintuitive book that answers the questions countless parents are asking: How do we manage the chaos of our lives? How do we teach our kids values? How do we make our family happier?
Written in a charming, accessible style, The Secrets of Happy Families is smart, funny, and fresh, and will forever change how your family lives every day.
Praise For The Secrets of Happy Families: Improve Your Mornings, Tell Your Family History, Fight Smarter, Go Out and Play, and Much More…
"Infused with humor and authenticity. ... Feiler's unique perspective and voice... sets it apart from other work in both the parenting and happiness genres." — Yahoo
"This is the best book I've read about how to transform families. … Run, don't walk, to get a copy" — NBC Latino
"Makes even the most skeptical parent sit up and take note" — BONNIE ROCHMAN for Time.com
"Refreshing. ... Feiler has an engaging stlye." — Washington Post
"I loved this book because it really is a new playbook for the modern-day family, something to counteract the chaos of the digital age." — Lyss Stern, creator of Divalysscious Moms and author of If You Give a Mom a Martini
"Not your run-of-the-mill parenting manual. … A practical, entertaining playbook that upends some of the most accepted wisdom in family-rearing today." — Outside magazine
"A self-help book with teeth, loaded with examples. ... The Secrets of Happy Families is comprehensive and clear, a how-to guide for dads who may not have realized they needed one. — Daddylibrium
William Morrow Paperbacks, 9780061778742, 320pp.
Publication Date: December 31, 2013
About the Author
Bruce Feiler is the author of six consecutive New York Times bestsellers, including Abraham, Where God Was Born, America's Prophet, The Council of Dads, and The Secrets of Happy Families. He is a columnist for the New York Times, a popular lecturer, and a frequent commentator on radio and television. He lives in Brooklyn with his wife and twin daughters.