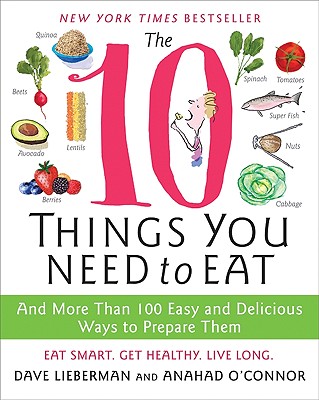 The 10 Things You Need to Eat (Paperback)
And More Than 100 Easy and Delicious Ways to Prepare Them
William Morrow Cookbooks, 9780061780271, 288pp.
Publication Date: December 29, 2009
* Individual store prices may vary.
Description
THE 10 THINGS YOU NEED TO EAT AND 100 WAYS TO PREPARE THEM pairs New York Times health columnist Anahad O′Connor with foodie Dave Lieberman to present the 10 foods that should be on your plate, including the scientific research on why they will make you healthier and easy-to-follow recipes to savor them at every meal. Each chapter will be devoted to a new food from the list -- cinnamon, beets, quinoa, nuts, wild salmon, berries, tomatoes, spinach, avocado, cabbage and some honorable mentions, including pomegranate, turmeric, Sicilian wine and more -- which have been proven to help prevent early onset of aging, cancer, or general fatigue, among other health benefits.
Anahad and Dave, who met when they were roommates at Yale, will bring a young, fun voice to this book. With their help, readers will not only be inspired to cook up entire meals - from appetizers to desserts - chock full of the 10 things you need to eat, but they will also become more informed and aware of the food that they choose to put on their tables. This cookbook also sets itself apart form other health cookbooks on the market because of this dual voice and fresh package, including illustrations.
Based on the hugely popular and widely shared New York Times article on this subject, THE 10 THINGS YOU NEED TO EAT AND 100 WAYS TO PREPARE THEM is sure to appeal to foodies, health nuts, novice cooks, and people who simply enjoy healthy living.
About the Author
Anahad O'Connor is a reporter for the New York Times, with a weekly column in the Science Times section called "Really?" He has appeared on National Public Radio, Good Morning America, and The Martha Stewart Show. He is also the author of the bestselling health book Never Shower in a Thunderstorm: Surprising Facts and Misleading Myths About Our Health and the World We Live In. He lives in New York City.
Dave Lieberman hosted the Food Network's shows Good Deal and Eat This. He is also the author of two cookbooks, Young & Hungry and Dave's Dinners. Dave is a contributing editor at Saveur magazine and works as a recipe consultant to private and corporate clients. He lives in New York City.