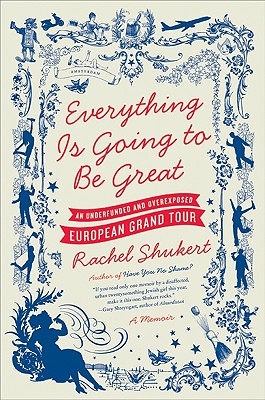 Everything Is Going to Be Great
An Underfunded and Overexposed European Grand Tour
Paperback

* Individual store prices may vary.
Description
"Shukert's sharp comic turns careen smack into the middle of our hearts."
— Los Angeles Times
From performer, playwright, comedian, author and writer and producer of "Glow" and "Superirl" Rachel Shukert, Everything Is Going to Be Great, is a hilarious memoir of traveling through Europe in her twenties. Rachel chronicles her youthful navigation through the haphazard fun and debauchery of new freedoms, and the growing pains that ultimately accompany "adulthood." Fans of Sloane Crosley and David Sedaris are going to love Shulkert's story, and her sharp, smart humor.
Praise For Everything Is Going to Be Great: An Underfunded and Overexposed European Grand Tour…
"Rachel Shukert manages to do something almost unprecedented in the female travelogue subgenre: she is funny."
— The New Yorker

"Rachel Shukert's memoir is more than just 'girl-gone-overseas'; it's a hilarious, brave and surprisingly piercing work of art."
— Diablo Cody, Academy Award-winning screenwriter of Juno

"[Everything is Going to be Great] comes off like a cross between David Sedaris and Chuck Palahniuk….lurking beneath the jabs and one-liners is an affecting—and pretty unforgettable—coming-of-age tale."
— Entertainment Weekly

"[Shukert's] wit is pitch-perfect and amusingly self-conscious….The story itself spans continents, but the consistency with which Shukert perceives everything anchors and enlivens wherever her antics land her."
— Nylon Magazine

"Rachel Shukert's new memoir Everything Is Going To Be Great does something unfortunately rare in women's writing: celebrating mistakes….what Everything affirms is that screwing up from time to time—or even a lot—doesn't make you a terrible person."
— Jezebel

"Thoroughly enjoyable."
— Time Out New York

"A great summer read for anyone who likes funny ladies—or who has a friend who is threatening to give it all up to teach English in Prague. This should stop them cold."
— The Daily Beast

"Shukert possesses a certain talent to find the funny in almost any situation, and her shockingly personal and irreverent writing makes for many laughs….[an] entertaining and very current meditation on what it means to be a young American artist abroad."
— Booklist

"The humor with which [Shukert] recounts her experiences allows her work to transcend beyond the cliché of overseas-love-affairs-gone-awry….An entertaining and often laugh-out-loud—though not altogether atypical—story of soul-searching abroad."
— Kirkus Reviews

"If you read only one memoir by a disaffected, urban, 20-something Jewish girl this year, make it this one. Shukert rocks the lulav."
— Gary Shteyngart, author of Absurdistan

"Everything Is Going to Be Great is full of smartly observed cultural detail, sexual misadventure, heartbreak, and helpful tips. This outrageous and hilarious memoir will make you laugh, gasp, and occasionally squirm—sometimes all three at once. A weird and wonderful read."
— J. Courtney Sullivan, author of Commencement

"Shukert is a hugely funny, wildly smart, and menacingly original writer. I don't much care for leaving the house, but if I were ever to travel, I'd want to do it in book form and alongside Rachel, who has one billion crazy stories set in foreign lands, all beautifully told."
— Julie Klausner, author of I Don't Care About Your Band
Harper Perennial, 9780061782350, 336pp.
Publication Date: July 27, 2010
About the Author
Rachel Shukert is a playwright, performer, and the author of Have You No Shame? And Other Regrettable Stories. Her writing has appeared in McSweeney's and Heeb, and on Salon, Slate, Gawker, Nerve, and The Daily Beast, as well as featured on National Public Radio and in numerous print anthologies. Shukert was born and raised in Omaha, Nebraska, and now lives in New York City with her husband and her bipolar cat.