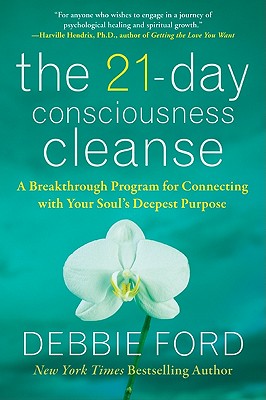 The 21-Day Consciousness Cleanse: A Breakthrough Program for Connecting with Your Soul's Deepest Purpose (Paperback)
A Breakthrough Program for Connecting with Your Soul's Deepest Purpose
HarperOne, 9780061783692, 256pp.
Publication Date: December 28, 2010
Description
In The 21-Day Consciousness Cleanse, Debbie Ford delivers her most practical and prescriptive book yet --a 21-day, life-changing program for spiritual renewal, emotional transformation, and reconnection with the soul's deepest purpose. Ford, the New York Times bestselling author of Why Good People Do Bad Things, offers a unique program designed to clear our minds and hearts from the negative thoughts and feelings that build up over time and too often guide our decisions and behaviors.
Praise For The 21-Day Consciousness Cleanse: A Breakthrough Program for Connecting with Your Soul's Deepest Purpose…
"Once again, Debbie Ford offers a simple and elegant process to get you in touch with the deepest part of your being, so you can live a life of meaning and purpose."
-Deepak Chopra, author of Reinventing the Body, Resurrecting the Soul

"Life coach extraordinaire, Debbie Ford, offers an inspiring program to cleanse toxic thoughts and behaviors to help everyone achieve an emotionally freer, loving, more authentic life. This book is a 21 day guide that is easy to practice and benefit from."
-Judith Orloff, MD, author, Emotional Freedom

"Living fully in the present. Discovering our true calling. These are not impractical concepts out of reach. In Debbie Ford's wonderful new book, she walks you through a process of discovery. Our outer shells crumble to reveal the soul's gold that has been waiting to be discovered."
-Marianne Williamson, author of The Age of Miracles

"No matter what one's spiritual beliefs may be, anyone who engages in the practices prescribed by the author cannot but benefit. The message is clear and the practice is specific and systematic. I recommend to anyone who wishes to engage in a journey of psychological healing and spiritual growth."
-Harville Hendrix, Ph.D., author of Getting the Love You Want
Advertisement