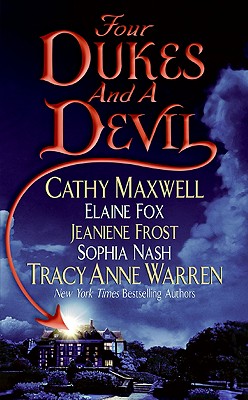 Four Dukes and a Devil
Mass Market

* Individual store prices may vary.
Description
What do you do with three dukes' a dog named Duke' and a devil? You put them into an anthology! We′ve combined five of today′s bestselling and popular authors into one volume to deliver romance like you′ve never experienced before.
Avon, 9780061787362, 400pp.
Publication Date: June 30, 2009
About the Author
Cathy Maxwell spends hours in front of her computer pondering the question, "Why do people fall in love?" It remains for her the great mystery of life and the secret to happiness. Contact Cathy at cathy@cathymaxwell.com or the old-fashioned way at PO Box 484, Buda, TX. 78610.
Tracy Anne Warren grew up in a small central Ohio town. After working for a number of years in finance, she quit her day job to pursue her first love—writing romance novels. Warren lives in Maryland with a trio of exuberant young Siamese rescue cats and windows full of gorgeous orchids and African violets. When she's not writing, she enjoys reading, watching movies, and dreaming up the characters for her next book.
Jeaniene Frost is the New York Times, USA Today, and international bestselling author of the Night Huntress series and the Night Huntress World novels. To date, foreign rights for her novels have sold to nineteen different countries. Jeaniene lives in North Carolina with her husband Matthew, who long ago accepted that she rarely cooks and always sleeps in on the weekends. Aside from writing, Jeaniene enjoys reading, poetry, watching movies with her husband, exploring old cemeteries, spelunking and traveling—by car. Airplanes, children, and cookbooks frighten her.
Sophia Nash was born in Switzerland and raised in France and the United States, but says her heart resides in Regency England. Her ancestor, an infamous French admiral who traded epic cannon fire with the British Royal Navy, is surely turning in his grave.
Before pursuing her long-held dream of writing, Sophia was an award-winning television producer for a CBS affiliate, a congressional speechwriter, and a nonprofit CEO. She lives in the Washington, D.C., suburbs with her husband and two children.
Sophia's novels have won twelve national awards, including the prestigious RITA® Award, and two spots on Booklist's "Top Ten Romances of the Year."
Elaine Fox has spent enough of her life datingto know that the scenarios described in this book arecompletely plausible -- though she disclaims any direct experience with any of them. Fortunately,however, she has been able to parlay this extendedsearch for romance into a career and hopesher readers appreciate the cathartic experience whileliving happily-ever-after lives themselves. Elainecurrently lives in Virginia.