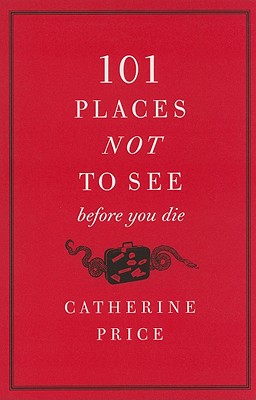 101 Places Not to See Before You Die (Paperback)
Harper Perennial, 9780061787768, 272pp.
Publication Date: June 22, 2010
* Individual store prices may vary.
Description
"I had no idea so many god-awful places exist in this world….Catherine Price is a hilarious guide to all that is sucky."
 —Novella Carpenter, author of Farm City: the Education of an Urban Farmer
Irreverent and compulsively readable, 101 Places Not to See Before You Die highlights desitinations we can all live without--like Jupiter's Worst Moon, an Outdoor Wedding During the 2021 Reemergence of the Great Eastern Cicada Brood, and fan hours at the Las Vegas Porn Convention--while reminding us why we're willing to put up with the bed bugs and the food poisoning and set out to explore the world.
About the Author
Catherine Price is an avid traveler and writer who hopes never to see a body farm firsthand. Coauthor of The Big Sur Bakery Cookbook and a contributing editor at Popular Science, she has written for the New York Times, O, the Oprah Magazine, Salon, Slate, and The Best American Science Writing.
Praise For 101 Places Not to See Before You Die…
"This clever collection of travel advisories lists all the places that are definitely not worth a trip, including a rendering plant, Times Square on New Year's Eve, and, bien sûr, Euro Disney."
— Entertainment Weekly

"Price's delightful work is utterly hilarious."
— Arthur Frommer

"Weird and funny."
— The Washington Post

"Funny and engaging."
— USA Today

"A hilarious look at some of the most uninviting, overcrowded, unsanitary, overhyped, and stomach-churning locales on the planet."
— Budget Travel

"Amusing."
— The San Francisco Chronicle

"Price is a delightful writer who manages to give readers more giggles in under-two-page entries than many writers could in an entire chapter. . . . Highly recommended."
— Library Journal

"101 Places Not to See Before You Die takes a fascinating and hilarious look at some of the least appealing places and events on the planet—from Montana's Testicle Festival to the Amsterdam Sexmuseum—and explains in lucid terms just what you'll be missing out on."
— Salon
Coverage from NPR