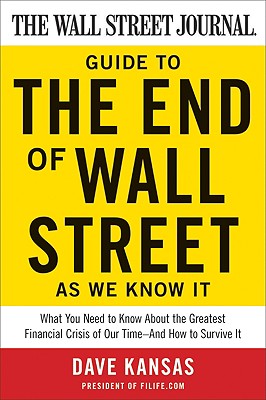 The Wall Street Journal Guide to the End of Wall Street as We Know It: What You Need to Know about the Greatest Financial Crisis of Our Time--And How (Paperback)
What You Need to Know about the Greatest Financial Crisis of Our Time--And How
HarperBusiness, 9780061788406, 199pp.
Publication Date: January 27, 2009
Description
The definitive guide for Main Street readers who want to make sense of what′s happening on Wall Street, and better understand how we got here and what we need to know to in days to come. Written by seasoned financial writer Dave Kansas, this official Wall Street Journal guide will be filled with practical information, revealing what the crisis means for reader′s financial lives, and what steps they should be taking now to inform and protect themselves.
Praise For The Wall Street Journal Guide to the End of Wall Street as We Know It: What You Need to Know about the Greatest Financial Crisis of Our Time--And How…
"A very useful beginning for those who are perplexed and anxious about the financial crisis—pretty much everybody."
-Library Journal
Advertisement