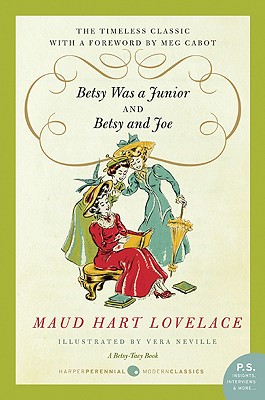 Betsy Was a Junior/Betsy and Joe (Paperback)
William Morrow Paperbacks, 9780061794728, 640pp.
Publication Date: September 29, 2009
* Individual store prices may vary.
Description
"Some characters become your friends for life. That's how it was for me with Betsy-Tacy."—Judy Blume
With a Foreword by Meg Cabot
Maud Hart Lovelace's beloved Betsy-Tacy series continues with the third and final books set in Betsy and Tacy's high school years, Betsy Was a Junior and Betsy and Joe, featuring the original cover illustration from Betsy Was a Junior along with a foreword by New York Times bestselling author Meg Cabot.
"Slipping into a Betsy book is like slipping into a favorite pair of well-worn slippers: It's always a pleasure to live in Betsy's world for a little while, to experience her simple joys, but also her (thankfully short-lived) sorrows." —Meg Cabot
"I re-read these books every year, marveling at how a world so quaint - Shirtwaists! Pompadours! Merry Widow hats! - can feature a heroine who is undeniably modern." —Laura Lippman
"There are three authors whose body of work I have re-read more than once over my adult life: Charles Dickens, Jane Austen, and Maud Hart Lovelace." —Anna Quindlen


Praise For Betsy Was a Junior/Betsy and Joe…
"Slipping into Betsy's world is like slipping into a favorite pair of well-worn slippers: It's always a pleasure to live in Betsy's world for a little while, to experience her simple joys, but also her (thankfully short-lived) sorrows."

"There are three authors whose body of work I have re-read more than once over my adult life: Charles Dickens, Jane Austen, and Maud Hart Lovelace."

"I re-read these books every year, marveling at how a world so quaint - Shirtwaists! Pompadours! Merry Widow Hats! - can feature a heroine who is undeniably modern."

"I read every one of these Betsy-Tacy-Tib books twice. I loved them as a child, as a young adult, and now, reading them with my daughter, as a mother. What a wonderful world it was!"

"Some characters become your friends for life. That's how it was for me with Betsy-Tacy."

"The Betsy-Tacy books were among my favorites when I was growing up."

"I am fairly certain that my independent, high-spirited grandmother must have had a childhood similar to Betsy Ray's…As I read..., I felt that I was having an unexpected and welcome peek into Granny's childhood-a gift to me from Maud Hart Lovelace."

"Family loyalty and the devotion of friends to one another, which for me are the defining characteristics of the Betsy-Tacy stories."

"I truly consider BETSY AND TACY GO DOWNTOWN to be the finest novel in the English language! I will never love any other books as much as I love the Betsy-Tacy books."

"I grew up 30 miles north of Mankato, and trips to town were filled with mystery and magic, because I was walking the same streets that Betsy and Tacy once walked. The Betsy-Tacy books...., more than any other books, fed my dream of becoming a writer one day."

"When I was growing up in the Bronx, I had lots of friends. But the girls I most enjoyed spending time with were Betsy, Tacy and Tib....in the series by Maud Hart Lovelace... - three girls full of good ideas, adventures and fun."