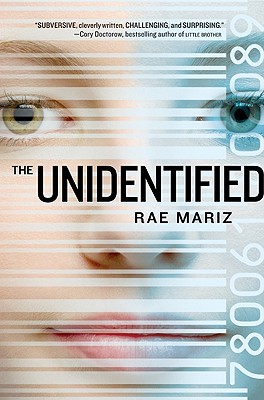 The Unidentified
Hardcover

* Individual store prices may vary.
Other Editions of This Title:
Paperback (4/17/2012)
Description
Fifteen-year-old Katey (aka Kid) goes to school in the Game—a mall converted into a "school" run by corporate sponsors. As the students play their way through the levels, they are also creatingproducts and being used for market research by the sponsors, who are watching them 24/7 on video cameras.
Kid has a vague sense of unease but doesn't question this existence until one day she witnesses a shocking anticorporateprank. She follows the clues to uncover the identities of the people behind it and discovers an anonymous group that callsitself the Unidentified. Intrigued by their countercultureideas and enigmatic leader, Kid is drawn into the group. But when the Unidentified's pranks and even Kid's own identity are co-opted by the sponsors, Kid decides to do something bigger—something that could change the Game forever.
This funny, sharp, and thought-provoking novel heralds the arrival of a stunning new voice in teen fiction.
Praise For The Unidentified…
"This is a futuristic, underground, anticorporate mystery/call to action with a dash of romantic interest that will find a niche with readers of other outsider fiction and those who enjoy imagining the way we will interact in the not-so-distant future."
— Booklist

"Mariz carefully presents Kid, baffled by the spotlight and longing for days when she could just coast, as not quite being what either group wants, placing her plausibly in a confused middle ground as she, like most teens, struggles to balance individuality and capitalism. "
— Bulletin of the Center for Children's Books

"Debut author Mariz successfully creates a frighteningly real, sadly jaded world where teens' material affections are bought and sold on an open market thinly disguised as education."
— Kirkus Reviews

"Kid takes readers through myriad emotions on her whirlwind tour as a "name" in the game, and readers will be fixated until the very end. "
— School Library Journal

"This story of conformity, rebellion, and seeking one's identity is evocative of Scott Westerfeld and Cory Doctorow, injecting a dystopian setting with an optimistic, antiestablishment undercurrent. "
— Publishers Weekly

"As its characters might say, 'Google, what a book!' THE UNIDENTIFIED does what only good speculative fiction can: it uses the language of the future to show us a twisted reflection of our own lives."
— Ned Vizzini, author of IT'S KIND OF A FUNNY STORY

"Subversive, cleverly written, challenging, and surprising."
— Cory Doctorow, bestselling author of LITTLE BROTHER
Balzer + Bray, 9780061802089, 304pp.
Publication Date: October 5, 2010
About the Author
Rae Mariz currently lives in Stockholm after working in public libraries in Seattle, dropping out of art school in Portland, and spending her formative years bouncing around the Bay Area. She's a language geek who enjoys spending her time on ambitious craft projects and playing video games. This is her first novel for teens.
or
Not Currently Available for Direct Purchase