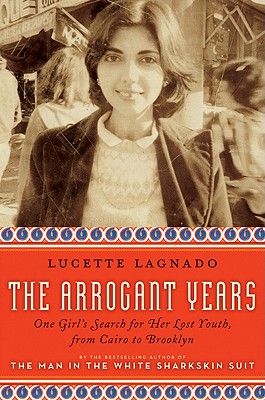 The Arrogant Years (Hardcover)
One Girl's Search for Her Lost Youth, from Cairo to Brooklyn
Ecco, 9780061803673, 416pp.
Publication Date: September 1, 2011
Other Editions of This Title:
Paperback (4/17/2012)
Compact Disc (5/19/2020)
MP3 CD (5/19/2020)
* Individual store prices may vary.
Description
" Lagnado writes] in crystalline yet melodious prose."
--New York Times
Lucette Lagnado's acclaimed, award-winning The Man in the White Sharkskin Suit (" a] crushing, brilliant book" --New York Times Book Review) told the powerfully moving story of her Jewish family's exile from Egypt. In her extraordinary follow-up memoir, The Arrogant Years, Lagnado revisits her first years in America, and describes a difficult coming-of-age tragically interrupted by a bout with cancer at age 16. At once a poignant mother and daughter story and a magnificent snapshot of the turbulent '60s and '70s, The Arrogant Years is a stunning work of memory and resilience that ranges from Cairo to Brooklyn and beyond--the unforgettable true story of a remarkable young woman's determination to push past the boundaries of her life and make her way in the wider world.

Praise For The Arrogant Years: One Girl's Search for Her Lost Youth, from Cairo to Brooklyn…
"[E]nchanting…It's risky to write a second memoir about the same time period, but in Lagnado's hands, the result feels natural and right. She skillfully reminds us that a single human life is infinitely complex, that there are as many sides to a story as times it is told."
-New York Times Book Review

"The Arrogant Years [is] a paragon of memoir writing, a story about the complex swirl of people and events and forces out of which individual lives are made — some, like Ms. Lagnado's, more painfully, but also more fully, than others."
-New York Times

"[A] taut and moving memoir…With a journalist's economy of style and an intuitive sense of story, [Lagnado] weaves an account of her own arrogant years.... [A] meditation on exile and assimilation, feminism and the enduring ties of family."
-San Francisco Chronicle

"With precision and searing honesty, Lucette Lagnado writes in The Arrogant Years about her torn allegiances as both an Egyptian Jew growing up in America in the 1960s and '70s and the youngest daughter of unhappily married parents."
-O, The Oprah Magazine

"Lagnado is at her best when she plumbs her own psyche to sort out her life's ups and downs…a rewarding journey."
-Washington Post

"[A]ffecting…Lagnado writes with great affection and compassion for her mother, and she describes displacement and the urgency of memory. Readers... of Sharkskin will again be moved…. It is also a portrait of awe-inspiring caregiving by a loving daughter."
-Jewish Week
-Boston Globe

"From Pashas to paupers, from the alleyways of Cairo to the working class streets of Brooklyn, this epic family saga of faith and fragility showcases Lucette – nicknamed Loulou by her family—as a budding contrarian in her alien New World."
-Jewish Woman Magazine, Book of the Month

"This moving follow-up [to The Man in the White Sharkskin Suit] revolves around Lagnado and her mother, both of them battling their fates and coming of age in times of social change."
-New York Times Book Review, Paperback Row

"Weaves together the life stories of several women in a way that will resonate with readers of any ethnicity…Lagnado's done a fabulous job, again, of transporting us to a multi-ethnic Cairo that no longer exists. That alone is worth the price of admission."
-Library Journal

"You don't have to be Jewish to take this entrancing literary ride…. The Arrogant Years is a lovely book, sad and hilarious by turn, written with love of life, and an enormous affection for language. You will love it too."
-Malachy McCourt, New York Times bestselling author of A Monk Swimming

"In the radiant presence of Lucette Lagnado herself--and in The Arrogant Years, her moving and unsparingly revelatory second memoir… we have honesty as purity of style, and lucidity as burning emotion, and history as an enduring hymn to resilience."
-Cynthia Ozick

"Lyrical…[Lagnado's] memoir is a fully fleshed, moving re-creation of once-vibrant Jewish communities."
-Publishers Weekly

"[A] frank and searching chronicle of lost and found dreams… Lagnado is spellbinding and profoundly elucidating in this vividly detailed and far-reaching family memoir of epic adversity and hard-won selfhood."
-Booklist (starred review)

"[Lagnado] is a gifted storyteller who spins ordinary family experiences into enchanting fairy tales, complete with magical backdrops...nasty villains and dashing heroes…. Vivid and evocative...tender and heartfelt."
-Kirkus
or
Not Currently Available for Direct Purchase