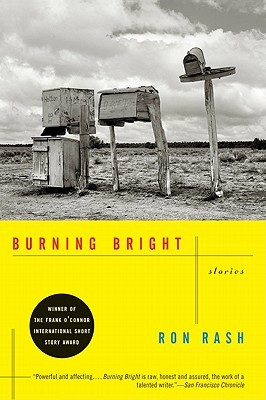 Burning Bright (Paperback)
Stories
Ecco Press, 9780061804120, 205pp.
Publication Date: February 1, 2011
Description
"A gorgeous, brutal writer."
--Richard Price, New York Times bestselling author of Lush Life and Clockers In Burning Bright, Pen/Faulkner finalist and New York Times bestselling author of Serena, Ron Rash, captures the eerie beauty and stark violence of Appalachia through the lives of unforgettable characters. With this masterful collection of stories that span the Civil War to the present day, Rash, a supremely talented writer who "recalls both John Steinbeck and Cormac McCarthy" (The New Yorker), solidifies his reputation as a major contemporary American literary artist.
Praise For Burning Bright: Stories…
"For the past 15 years, Ron Rash has been carving out a position as one of the best writers in America writing about Appalachia... BURNING BRIGHT is raw, honest and assured."
-San Francisco Chronicle

"Ron Rash (SERENA) delivers compelling bleakness in BURNING BRIGHT, a collection of powerful short stories set in the hardscrabble towns of Appalachia."
-San Diego Union-Tribune

"The ferally beautiful stories in Ron Rash's BURNING BRIGHT evoke Appalachians of a Civil War past-- and a meth-blighted present-- with the haunting clarity of Walker Evans photographs."
-Vogue

"The deserving winner of the Frank O'Connor International Short Story competition here gathers several of the finest stories anyone could hope to read. These are powerful excursions into the darkest areas of human experience. Magnificent is suddenly too small a word."
-Irish Times

"These are hard stories. These are hard people. But their troubles are never anything less than compelling...Rash has a feel for Appalachia and its ways, its rough justice, its loyalties... [Rash] has written a memorable, if often brutal, elegy for a vanishing way of life."
-Miami Herald

"A slender set of spare and menacing depictions of the unforgiving ways of life in rural Appalachia, Burning Bright finds a narrow sweet spot between Raymond Carver's minimalism and William Faulkner's Gothic."
-Washington Post

"Ron Rash is a writer of quiet and stunning beauty... The stories in BURNING BRIGHT are beautiful. Each story is luminescent, deeply communicative of Appalachia and perfectly framed with sentences both lyrical and grounded."
-Huffington Post

"The skill with which [Ron Rash's] tales are constructed is more apparent in Burning Bright... these paired down short stories make it much easier to see how expertly Mr. Rash fine-tunes his work... elegantly sophisticated work...Mr. Rash certainly knows how to rivet attention."
-Janet Maslin, New York Times

"Finely drawn stories...a collection to be read for the quality of the prose, which reflects Rash's intimate knowledge of this region and its history. His heart is clearly in this place ."
-The Oregonian (Portland)

"A finely crafted, understated collection of 12 stories....Rash writes the way the old bluegrass musicians sing: in a stark, high-lonesome voice capturing the yearning and despair of characters who have lost almost everything but their pride."
-Atlanta Journal-Constitution

"Rash...is at the top of his game."
-Time Out New York

"[Rash] is a master craftsman who pares down language to its essential elements in these starkly beautiful stories."
-Library Journal
Advertisement