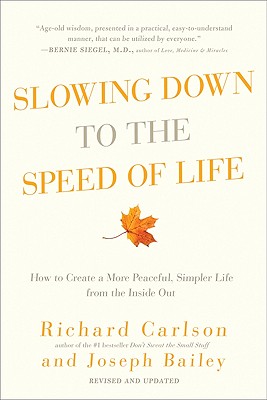 Slowing Down to the Speed of Life (Paperback)
How to Create a More Peaceful, Simpler Life from the Inside Out
HarperOne, 9780061804298, 240pp.
Publication Date: November 10, 2009
Other Editions of This Title:
Paperback (4/4/1998)
* Individual store prices may vary.
Description
"Age-old wisdom presented in a practical, easy to understand manner that can be utilized by everyone."
—Bernie Siegel, M. D., author of Love, Medicine & Miracles
Newly revised and updated to address the increased stress of our modern times, Slowing Down to the Speed of Life by bestselling author Richard Carlson (Don't Sweat the Small Stuff…and It's All Small Stuff and Don't Get Scrooged) and Joseph Bailey is the classic guide to creating a more peaceful, simpler life from the inside out. With practical and easy exercises to help you slow down your mind and focus on the present moment, Slowing Down to the Speed of Life, in the words of Dan Millman, bestselling author of Way of the Peaceful Warrior, is "a life-enhancing book with insightful principles for peaceful and productive living at work and at home."
About the Author
Richard Carlson (1961-2006) is a bestselling author whose books include Don't Sweat the Small Stuff . . . and It's All Small Stuff; Don't Worry, Make Money; You Can Feel Good Again; and You Can Be Happy No Matter What. His books have been published in 35 languages in over 130 countries.
Joseph Bailey, M.A., is a licensed psychologist and has been a psychotherapist for thirty-five years. He is the author of five books including The Serenity Principle and his most recent, Fearproof Your Life.
Praise For Slowing Down to the Speed of Life: How to Create a More Peaceful, Simpler Life from the Inside Out…
"Age-old wisdom, presented in a practical, easy to understand manner, that can be utilized by everyone."
— Bernie Siegel, M. D., author of LOVE, MEDICINE & MIRACLES and PRESCRIPTIONS FOR LIVING

"This book speaks right to the heart of the matter: how to get more satisfaction in life from less rushing around. Many people will change their lives dramatically by reading this great book."
— George Pransky, Ph.D., co-founder of Psychology of the Mind and author of The Relationship Handbook

"A life-enhancing book with insightful principles for peaceful and productive living at work and at home."
— Dan Millman, author of Way of the Peaceful Warrior