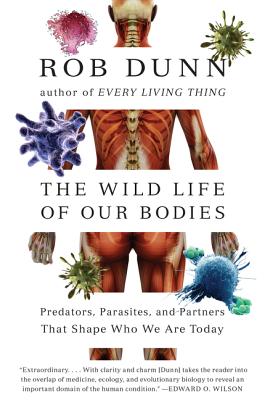 The Wild Life of Our Bodies (Paperback)
Predators, Parasites, and Partners That Shape Who We Are Today
Harper Perennial, 9780061806469, 304pp.
Publication Date: December 23, 2014
Other Editions of This Title:
Hardcover (6/21/2011)
* Individual store prices may vary.
Description
"An extraordinary book. . . . With clarity and charm [Dunn] takes the reader into the overlap of medicine, ecology, and evolutionary biology to reveal an important domain of the human condition." —Edward O. Wilson, author of Anthill and The Future of Life
Biologist Rob Dunn reveals the crucial influence that other species have upon our health, our well being, and our world in The Wild Life of Our Bodies—a fascinating tour through the hidden truths of nature and codependence. Dunn illuminates the nuanced, often imperceptible relationships that exist between homo sapiens and other species, relationships that underpin humanity's ability to thrive and prosper in every circumstance. Readers of Michael Pollan's The Omnivore's Dilemma will be enthralled by Dunn's powerful, lucid exploration of the role that humankind plays within the greater web of life on Earth.
About the Author
Rob Dunn is an associate professor in the Department of Biological Sciences at North Carolina State University and the author of several books, including Every Living Thing. A rising star in popular-science journalism, he writes for National Geographic, Natural History, Scientific American, BBC Wildlife, and Seed magazine. He lives in Raleigh, North Carolina, with many thousands of wild species, including at least one species of mite living on his head.
Praise For The Wild Life of Our Bodies: Predators, Parasites, and Partners That Shape Who We Are Today…
"A pleasure to read. He is not a biologist moonlighting as a writer; he is both. Dunn also does a wonderful job interspersing history, research, and speculation with real-life human beings. He has a natural flair for drama and tension . . . a highly readable, informative mashing of ideas and disciplines."
— Boston Globe

"Grabbing the reader from the start . . . Dunn moves through the answer to these and other questions with a sure use of language, scientific research, and humor-all of which combined keep the reader highly engaged. . . . Mr. Dunn is a thorough and talented writer."
— New York Journal of Books

"An extraordinary book about a previously little explored subject. With clarity and charm the author takes the reader into the overlap of medicine, ecology, and evolutionary biology to reveal an important domain of the human condition."
— Edward O. Wilson, University Research Professor Emeritus, Harvard University

"[Dunn is] a master at applying the principle of administering a spoonful of sugar (i.e., humor) to make the "medicine" of complicated scientific information not merely interesting but gripping. Nothing less than an every-person's handbook for understanding life, great and small, on planet Earth."
— Booklist (starred review)

"Adding touches of humor along the way, Dunn deftly explains complex biological systems for the general reader. […] Highly recommended for nature aficionados, this book should inspire many lively discussions."
— Library Journal