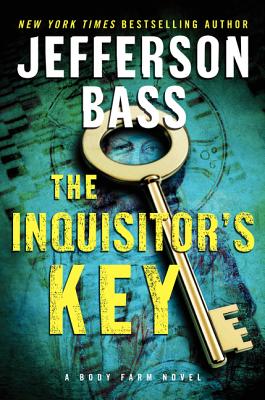 The Inquisitor's Key (Hardcover)
William Morrow & Company, 9780061806797, 353pp.
Publication Date: May 8, 2012
* Individual store prices may vary.
or
Not Currently Available for Direct Purchase
Description
Miranda Lovelady, Dr. Bill Brockton's protÉgÉ, is spending the summer helping excavate a newly discovered chamber beneath the spectacular Palace of the Popes in Avignon, France. There she discovers a stone chest inscribed with a stunning claim: inside lie the bones of none other than Jesus of Nazareth. Faced with a case of unimaginable proportions, Miranda summons Brockton for help proving or refuting the claim. Both scientists are skeptical—after all, fake relics abounded during the Middle Ages—but evidence for authenticity looks strong initially, and soon grows stronger.
Brockton and Miranda link the bones to the haunting image on the Shroud of Turin, revered by millions as the burial cloth of Christ, and then a laboratory test finds the bones to be two thousand years old. The finding triggers a deadly tug-of-war between the anthropologists, the Vatican, and a deadly zealot who hopes to use the bones to bring about the Second Coming—and trigger the end of time.
Set against an international landscape, and weaving a rich tapestry of religion, history, art, and science, The Inquisitor's Key takes Jefferson Bass to an exciting new level of suspense.
Praise For The Inquisitor's Key…
"This series . . . just keeps getting better. [Bones of Betrayal] features both the most compelling story and the best portrayal yet of Brockton, who has completed the transition from fictional representation of coauthor Bass to fully realized protagonist."
-Booklist

"Carved in Bone has a unique corpse, solid science, quirky humor and a loveable protagonist. That a novel like this can be described as charming is a tribute to the team that created some very human, down-to-earth characters."
-USA Today

"A superb mystery novel—well-plotted, filled with memorable characters, based on accurate forensic science and written with more flair and literary sensibility than anything by John Grisham. The novel, in fact, is in Cornwell's league, high praise indeed."
-Charlotte Observer on The Devil's Bones

"The Sherlock Holmes for bones has arrived. . . . A privileged glimpse into the world of a ground-breaking pioneer."
-Katherine Ramsland, Author of The Forensic Science of C.S.I.
Book Videos
Advertisement