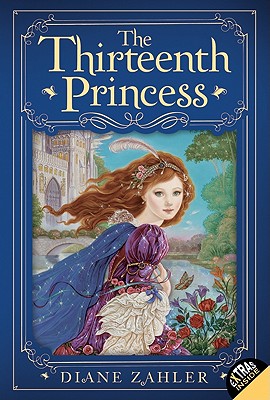 The Thirteenth Princess (Paperback)
HarperTorch, 9780061825002, 243pp.
Publication Date: January 4, 2011
Description
My name is Zita, and I am the thirteenth princess.My twelve sisters are legendary, even infaraway kingdoms, but I am sure thatyou have never heard of me.
Zita is not just any servant--she's the thirteenth daughterof a king who wanted only sons. When all her royal sisters fallmysteriously ill, the only clue is their strangely worn and tatteredshoes. Something sinister is afoot--and Zita must find the sourceof the enchantment and break the curse, or the twelve princesseswill surely dance to their deaths.
Praise For The Thirteenth Princess…
Just the right combination of magic, adventure, and romance."
-Bulletin of the Center for Children's Books

"Zahler takes a light story and gives it gratifying depth, rounding out the characters and their motivations without betraying the source material and wrapping it all together in a graceful and cohesive romantic drama."
-Publishers Weekly

"Delicious descriptions"
-Kirkus Reviews

Lively reworking of familiar elements."
-Booklist

"THE THIRTEENTH PRINCESS is a lucky find, a wheeling gavotte of a novel that refreshes an old fairy tale with new enchantment."
-Gregory Maguire, author of WICKED and A LION AMONG MEN

"Splendid entertainment with a guaranteed happy ever after."
-Diane Stanley, author of BELLA AT MIDNIGHT

"An enchanting retelling."
-Alex Flinn, author of BEASTLY and A KISS IN TIME
Advertisement