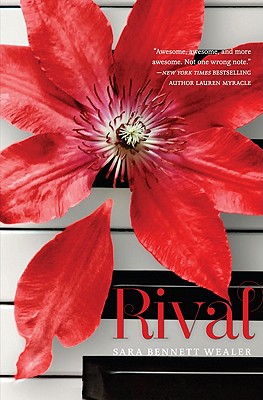 Rival
Hardcover

* Individual store prices may vary.
Description
Brooke
I don't like Kathryn Pease. I could pretend everything's fine between us. I could be nice to her face, then trash her behind her back. But I think it's better to be honest. I don't like Kathryn, and I'm not afraid to admit it.
Kathryn
I saw a commercial where singers used their voices to shatter glass, but the whole thing is pretty much a myth. The human voice isn't that strong.
Human hatred is. Anybody who doubts that should feel the hate waves coming off of Brooke Dempsey. But I don't shatter; I'm not made of glass. Anyway, the parts that break aren't on the outside.
Brooke and Kathryn used to be best friends . . . until the night when Brooke ruthlessly turned on Kathryn in front of everyone. Suddenly Kathryn was an outcast and Brooke was Queen B. Now, as they prepare to face off one last time, each girl must come to terms with the fact that the person she hates most might just be the best friend she ever had.
Praise For Rival…
"This quick paced and solid debut novel has all the drama of real high school. Think Glee, only with chamber music."
— Kirkus Reviews

"Wealer's debut novel establishes realistic situations and dialogue, empathy for all sorts of teens, and challenging themes that command a reader's thought and attention. These complex, interesting, believable protagonists will satisfy many readers who pick up the book expecting a lighter sort of musical read and instead find real substance."
— Booklist

"Fast paced and readable. The frequent musical references give the story an original twist."
— School Library Journal

"Wealer has done a wonderful job creating intensity in the characters. Rival will be gobbled up by teens who have enjoyed books such as Sara Shepard's Pretty Little Liars as well as teens looking for a fast-paced, action-filled story."
— Voice of Youth Advocates (VOYA)

"Wealer has a talent for depicting the fragile moments on which friendships are made and broken."
— Publishers Weekly

"A balanced, insightful picture of the ups and downs of a friendship undone by envy."
— Bulletin of the Center for Children's Books

"Awesome, awesome, and more awesome. Not one wrong note."
— Lauren Myracle, New York Times bestselling author

"This book gets it all exactly right—friendships, envy, and the fact that you can never truly know another person."
— Sara Zarr, National Book Award finalist
HarperTeen, 9780061827624, 336pp.
Publication Date: February 15, 2011
About the Author
Sara Bennett Wealer grew up in Manhattan, Kansas (the "Little Apple"), where she sang with the show choir and wrote for her high school newspaper. She majored in voice at the University of Kansas before deciding she had no business trying to become an opera singer.
Sara now lives in Cincinnati with her husband and two daughters, and she still sings when her schedule allows.
or
Not Currently Available for Direct Purchase