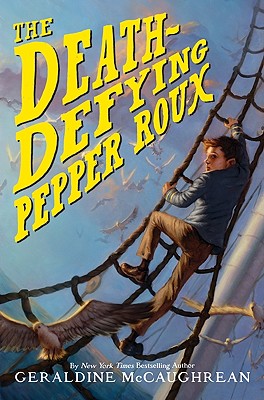 The Death-Defying Pepper Roux ()
HarperCollins, 9780061836664, 336pp.
Publication Date: January 1, 2010
Other Editions of This Title:
Paperback (1/1/2013)
Hardcover (1/19/2010)
* Individual store prices may vary.
Description
Pepper's fourteenth birthday is a momentous one.
It's the day he's supposed to die.
Everyone seems resigned to it—even Pepper, although he would much prefer to live. But can you sidestep Fate? Jump sideways into a different life? NaÏve and trusting, Pepper sets a course through dangerous waters, inviting disaster and mayhem at every turn, one eye on the sky for fear of angels, one on the magnificent possibilities of being alive.
New York Times bestselling and Printz Award-winning author Geraldine McCaughrean has created a gripping tale filled with dark humor and daring escapades, where the key to a boy's life lies in facing his own death.
Join him on the run—if you can keep up.
Praise For The Death-Defying Pepper Roux…
"Exuberant prose and whirling humor animate an unforgettable cast of characters. A more whimsical, French cousin to Neil Gaiman's The Graveyard Book (2008), with a similar timelessly classic feel."
-Booklist (starred review)

"Creating vivid characters is just one of McCaughrean's gifts. Readers will root for Pepper to get the ending he deserves—a happy one."
-Publishers Weekly (starred review)

"[A] laugh-out-loud funny, picaresque adventure. McCaughrean's frequently over-the-top metaphors mirror the delightfully implausible plot. [A] poignant, odd, wonderfully composed and vastly entertaining novel."
-Kirkus Reviews (starred review)

"A charming tale. Pepper will capture readers' hearts, and Duchesse may be the most hilarious yet wise character in children's literature this decade. This novel will be savored."
-School Library Journal (starred review)

"[T]horoughly entertaining. It's McCaughrean's way with language that establish[es] this picaresque tale as the latest evidence that she is one of the more remarkable novelists writing for children today."
-The Horn Book

"The Death-Defying Pepper Roux is a thoughtful novel and an entertaining adventure story. McCaughrean once again proves that she is a talented writer with the ability to weave truly enchanting metaphors."
-Assembly on Literature for Adolescents
or
Not Currently Available for Direct Purchase