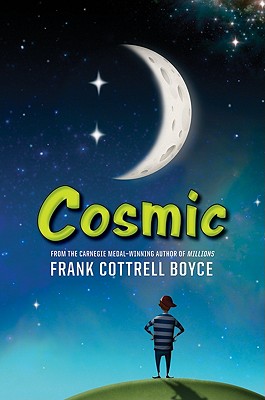 Cosmic
Hardcover

* Individual store prices may vary.
Description
Liam has always felt a bit like he's stuck between two worlds. This isprimarily because he's a twelve-year-old kid who looks like he's about thirty. Sometimes it's not so bad, like when his new principal mistakes him for a teacher on the first day of school or when he convinces a car dealer to let him take a Porsche out on a test drive. But mostly it's just frustrating, being a kid trapped in an adult world. And so he decides to flip things around. Liam cons his way onto the first spaceship to take civilians into space, a special flight for a group of kids and an adult chaperone, and he is going as the adult chaperone. It's not long before Liam, along with his friends, is stuck between two worlds again—only this time he's 239,000 miles from home.
Frank Cottrell Boyce, author of Millions and Framed, brings us a funny and touching story of the many ways in which grown-upness is truly wasted on grown-ups.
Praise For Cosmic…
"A hilarious and heartfelt examination of "dadliness" in all its forms. A can't-miss offering from an author whose latest novel may be his best yet."
— Publishers Weekly (starred review)

"[Frank Cottrell Boyce] has created a riveting, affecting, sometimes snortingly funny "what-if" scenario. Liam's musings on what it takes to be a good, responsible father are dryly comical but also charmingly earnest. A high-levity zero-gravity romp."
— Kirkus Reviews (starred review)

"A story of human possibility with a lot of adventure, or an adventure with full credit given to human possibility? Either way, it's a fantastic, funny, and moving novel. Celebrates not only the spirit of exploration but the human connectedness that allows it to flower."
— Bulletin of the Center for Children's Books (starred review)

"Readers will appreciate the sharp, realistic, and very funny dialogue."
— School Library Journal (starred review)

"In his latest extravagantly imaginative and marvelously good-natured novel, [Frank Cottrell Boyce has] written one that is bound to win readers' hearts. This is not only a story about big lads, but also about dads and dadliness!"
— Booklist (starred review)

"This superb humorous and inventive "cosmic" adventure celebrated space travel, friendships, and dads."
— Voice of Youth Advocates (VOYA) (starred review)

"With echoes of Roald Dahl . . . the novel ends with an elegant punch line, and a touching endorsement of filial love."
— New York Times Book Review

"Cottrell Boyce has a gift for suspending disbelief, for laugh-out-loud comedy. "Cosmic" is Liam's favorite term of approval. It applies to this book."
— London Times

"His third novel, and his best yet. Hugely funny and utterly gripping."
— The Guardian

"Hilariously inventive. Frank Cottrell Boyce makes you laugh and think about parents and growing up, about the goodness of gravity and the infinite stars."
— Washington Post
Walden Pond Press, 9780061836831, 320pp.
Publication Date: January 19, 2010
About the Author
Frank Cottrell Boyce is the author of Sputnik's Guide to Life on Earth, The Astounding Broccoli Boy, Cosmic, Framed, and Millions, the last of which was a New York Times bestseller and was made into a movie by Oscar-winning director Danny Boyle. His books have won or been nominated for numerous awards, including the Carnegie Medal, the Guardian Children's Fiction Prize, and the Whitbread Children's Book Award. Frank is also a screenwriter, having penned the scripts for a number of feature films as well as the opening ceremony of the 2012 London Olympics. He lives in Liverpool with his family.
or
Not Currently Available for Direct Purchase