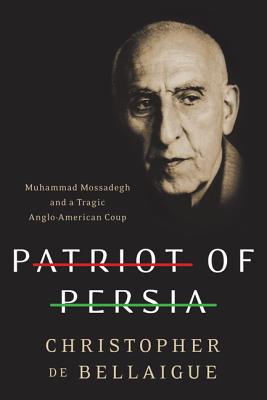 Patriot of Persia (Hardcover)
Muhammad Mossadegh and a Tragic Anglo-American Coup
HarperTorch, 9780061844706, 310pp.
Publication Date: May 15, 2012
Description
Christopher de Bellaigue, a former contributor to The Economist, brings to light the fascinating story of one of the great anti-colonial heroes of the twentieth century: Muhammad Mossadegh, the great Iranian leader whose untimely demise resulted in the Islamic Revolution of 1979, and a man who has been demonized, ridiculed, and misunderstood in the West while remaining an icon and an inspiration across the Middle East. Patriot of Persia, a new biography exploring his life and impact, opens a crucial new window into Mossadegh--whose role in the evolution of Iran's political climate cannot be overemphasized--providing a resource that will prove equally invaluable to academics, newshounds, and activists as they struggle to understand Mideast politics, Iran, Ahmadinejad, and the future of the region--and the world.
Praise For Patriot of Persia: Muhammad Mossadegh and a Tragic Anglo-American Coup…
"A compelling biography… Bellaigue…writes with economy and a lightly ironic touch…The result is a three-dimensional profile of Mossadegh that contrasts sharply with the heroic democrat mythologized by his supporters."
-Wall Street Journal

"Economist Tehran correspondent de Bellaigue uses plenty of local insight to provide general readers with an intriguing combination of biography, history and strategic study."
-Kirkus Reviews

"…superbly researched…"
-Huffington Post

"…a major strength of the book is that it does not seek to lionize the protagonist."
-Washington Independent Review of Books

"Brilliant…A sweeping new biography…also a rich portrait of Iran amid the revolutionary upheaval of anti-colonial reform movements…-the antecedent, in many ways, of today's Middle East uprisings."
-The Daily

"…thanks to veteran journalist Christopher de Bellaigue's brisk, engaging 300-page biography, Mossadegh's strange personality and at times baffling motives come into clearer focus."
-The Daily Beast

"A timely book…elegantly written…feels both fresh and relevant…highlights the dangers of a foreign policy that ignores the perceptions of those with memories longer than our own."
-The Guardian

"Superbly timed…portrays some fascinating, and often farcical, stories of political life in Iran"
-Independent

"Compelling… the West has handled its relationship with Iran as badly as possible… we have little leverage with its people…de Bellaigue's book goes far to explain why."
-Max Hastings, Sunday Times (London)

"De Bellaigue's book is unsurpassed as a rounded portrait of Mossadegh."
-Times Literary Supplement (London)

"Authoritative…a politically astute biography"
-Pankaj Mishra, London Review of Books

"Portrayed by Bellaigue as a classic tragic hero…the book presents a nuanced portrait of an enigmantic man whose brilliance and fairmindedness fatally collided with his pride and rigidity."
-Tara Bahrampour, Washington Post

"Brilliant…deft…De Bellaigue, fluent in Farsi, draws on previously unused Iranian sources to bring Mossadegh to vivid life…De Bellaigue's powerful portrait is also a timely reminder that further Western recklessness toward Iran…would only pile tragedy upon tragedy."
-Roger Cohen, New York Review of Books
Advertisement