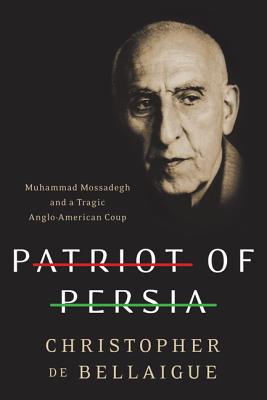 Patriot of Persia (Hardcover)
Muhammad Mossadegh and a Tragic Anglo-American Coup
Harper, 9780061844706, 320pp.
Publication Date: May 15, 2012
* Individual store prices may vary.
Description
Christopher de Bellaigue, a former contributor to The Economist, brings to light the fascinating story of one of the great anti-colonial heroes of the twentieth century: Muhammad Mossadegh, the great Iranian leader whose untimely demise resulted in the Islamic Revolution of 1979, and a man who has been demonized, ridiculed, and misunderstood in the West while remaining an icon and an inspiration across the Middle East. Patriot of Persia, a new biography exploring his life and impact, opens a crucial new window into Mossadegh—whose role in the evolution of Iran's political climate cannot be overemphasized—providing a resource that will prove equally invaluable to academics, newshounds, and activists as they struggle to understand Mideast politics, Iran, Ahmadinejad, and the future of the region—and the world.
About the Author
Christopher de Bellaigue has worked as a journalist in South Asia and the Middle East, writing for the Economist and the Financial Times, the Independent, and the New York Review of Books. His first book, In the Rose Garden of the Martyrs, was short-listed for the Royal Society of Literature's Ondaatje Prize, and his second, Rebel Land, was short-listed for the 2010 Orwell Prize. He and his wife divide their time between London and Tehran.
Praise For Patriot of Persia: Muhammad Mossadegh and a Tragic Anglo-American Coup…
"A compelling biography… Bellaigue…writes with economy and a lightly ironic touch…The result is a three-dimensional profile of Mossadegh that contrasts sharply with the heroic democrat mythologized by his supporters."
— Wall Street Journal

"Economist Tehran correspondent de Bellaigue uses plenty of local insight to provide general readers with an intriguing combination of biography, history and strategic study."
— Kirkus Reviews

"…superbly researched…"
— Huffington Post

"…a major strength of the book is that it does not seek to lionize the protagonist."
— Washington Independent Review of Books

"Brilliant…A sweeping new biography…also a rich portrait of Iran amid the revolutionary upheaval of anti-colonial reform movements…-the antecedent, in many ways, of today's Middle East uprisings."
— The Daily

"…thanks to veteran journalist Christopher de Bellaigue's brisk, engaging 300-page biography, Mossadegh's strange personality and at times baffling motives come into clearer focus."
— The Daily Beast

"A timely book…elegantly written…feels both fresh and relevant…highlights the dangers of a foreign policy that ignores the perceptions of those with memories longer than our own."
— The Guardian

"Superbly timed…portrays some fascinating, and often farcical, stories of political life in Iran"
— Independent

"Compelling… the West has handled its relationship with Iran as badly as possible… we have little leverage with its people…de Bellaigue's book goes far to explain why."
— Max Hastings, Sunday Times (London)

"De Bellaigue's book is unsurpassed as a rounded portrait of Mossadegh."
— Times Literary Supplement (London)

"Authoritative…a politically astute biography"
— Pankaj Mishra, London Review of Books

"Portrayed by Bellaigue as a classic tragic hero…the book presents a nuanced portrait of an enigmantic man whose brilliance and fairmindedness fatally collided with his pride and rigidity."
— Tara Bahrampour, Washington Post

"Brilliant…deft…De Bellaigue, fluent in Farsi, draws on previously unused Iranian sources to bring Mossadegh to vivid life…De Bellaigue's powerful portrait is also a timely reminder that further Western recklessness toward Iran…would only pile tragedy upon tragedy."
— Roger Cohen, New York Review of Books