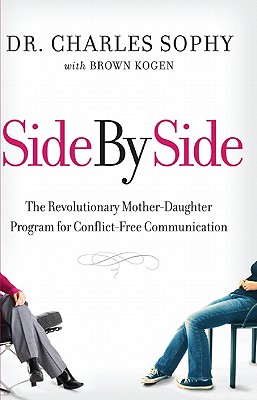 Side by Side: The Revolutionary Mother-Daughter Program for Conflict-Free Communication (Paperback)
The Revolutionary Mother-Daughter Program for Conflict-Free Communication
HarperOne, 9780061847684, 243pp.
Publication Date: February 8, 2011
Description
In Side by Side Dr. Charles Sophy introduces a revolutionary program tohelp mothers and daughters learn to navigate and resolve even their mostvolatile conflicts, taking their relationship to a new level of understanding, love, and respect. Side by Side is the first step to having a strong andrewarding connection with your daughter for years to come.
Praise For Side by Side: The Revolutionary Mother-Daughter Program for Conflict-Free Communication…
"Side by Side is a must-have for girls, especially if you're spending a long weekend with your mom!"
-Paris Hilton

"This book directs you on a path to connect mother to daughter or vice versa. It is a marvelous gift. "
-Sharon Stone

"I applaud Dr. Sophy's efforts to take the heat and pain out of the mother-daughter relationship. His principles are sound and his advice is practical. Side by Side is an innovative and useful book."
-Jane Isay, author of Walking on Eggshells: Navigating the Delicate Relationships between Adult Children and Parents

"In Side by Side, Dr. Sophy has helped me better understand my own behavior as a woman and allowed me to strengthen my connection with my daughter through practical exercises and compelling stories. Truly a brilliant read!"
-Mel B, actress and singer

"Dr. Sophy has an amazing understanding of the mother/daughter relationship. He has helped bring me clarity on how I can be the best possible parent to my daughters."
-Nathalie Marciano, former Creative Director for Charles David Shoes, producer of My Life in Ruins

"Accessibly written and abundantly illustrated with stories taken from Sophy's extensive professional repertoire, this book would be useful for mothers of any age interested in improving their relationships with their daughters."
-Library Journal
Advertisement