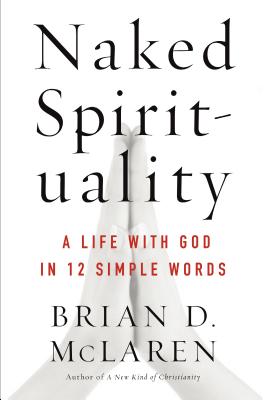 Naked Spirituality (Paperback)
A Life with God in 12 Simple Words
HarperOne, 9780061854026, 288pp.
Publication Date: September 25, 2012
Other Editions of This Title:
Hardcover (3/15/2011)
Paperback (5/1/2012)
* Individual store prices may vary.
Description
"A rich, brilliant and important book: wonderfully readable and personal, filled with insight and wisdom, it invites us into practices that can transform our lives." —Marcus J. Borg, author of Speaking Christian

"Brian McLaren is a bridge builder. In these simple yet profound spiritual practices he perfectly marries his evangelical heart and contemplative soul, and we are all richer for the union." —Cynthia Bourgeault, author of Centering Prayer and The Wisdom Jesus

In the same way he revitalized our faith in A New Kind of Christianity, church leader Brian McLaren reinvigorates our approach to spiritual fulfillment in Naked Spirituality—by tearing down the old dogmatic practices that hamper our spiritual growth, and leading us toward the meaningful spiritual practices that can help transform our lives.


About the Author
Brian D. McLaren, hailed as one of America's 25 most influential evangelicals by Time magazine, is a speaker, social justice activist, pastor, and the author of A New Kind of Christianity, A Generous Orthodoxy, A New Kind of Christian, and The Secret Message of Jesus. McLaren has appeared on Nightline and Larry King Live, and his work has been covered in The Washington Post, the New York Times, Christianity Today, and many other publications. McLaren and his wife, Grace, live in Florida and have four adult children.
Praise For Naked Spirituality: A Life with God in 12 Simple Words…
"Wise, easy to read, and practical."
— Fr. Richard Rohr, author of The Naked Now

"A rich, brilliant and important book: wonderfully readable and personal, filled with insight and wisdom, it invites us into practices that can transform our lives."
— Marcus J. Borg, author of Speaking Christian

"Brian McLaren is a bridge builder. In these simple yet profound spiritual practices he perfectly marries his evangelical heart and contemplative soul, and we are all richer for the union."
— Cynthia Bourgeault, author of Centering Prayer and The Wisdom Jesus

"McLaren's trademark persuasiveness is put to good effect as he continues to shatter paradigms for spiritual seekers."
— Library Journal (starred review)

"Anyone wanting to conserve the spiritual spark in themselves will find this book a gentle and generous tract."
— Publishers Weekly

"These stories are honest and kind and good... they illustrated the life of a real and raw experience of God and the human responses we offer.... This guidebook to simple words for a not so simple spirituality is an incredible gift, a true asset to us, bread for the journey."
— Hearts and Minds

"McLaren both charts an arc of the spiritual life and suggests practices to nurture [it]. . . . McLaren deserves endless thanks for reminding us that estrangement and no do not represent a breakdown of the spiritual life. . . . Naked Spirituality is very astute."
— Christian Century