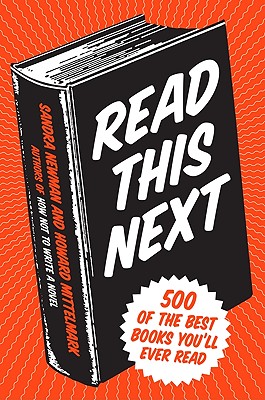 Read This Next: 500 of the Best Books You'll Ever Read (Paperback)
500 of the Best Books You'll Ever Read
Harper Paperbacks, 9780061856037, 432pp.
Publication Date: November 2, 2010
Description
Are you tired of bland, overly earnest reading guides that discuss the same old books? Read This Next by Sandra Newman and Howard Mittlemark is the answer. A smart, irreverent, honest, and truly hilarious guide to your 500 new favorite books, Read This Next is aimed at those readers and book groups that are looking for great reading suggestions with more variety and spice than the usual book club picks--while offering food for thought and laughter in equal measure.
Praise For Read This Next: 500 of the Best Books You'll Ever Read…
"Smart and bracingly funny … a rollicking addition to the reading group guide genre...carried along by a lively and nimble voice and a treasure trove of once-famous, now-forgotten titles."
-Publishers Weekly

"[Book groups] would be well advised to bypass the best-sellers in front of bookstores and libraries and pick up this clever (and useful) reading guide. This book's authors have an eye for offbeat and unappreciated classics […and] taste that spans the highbrow-lowbrow cultural divide."
-Chicago Tribune Books

"Sometimes the biggest problem a book discussion group faces is finding a book that everyone wants to read. Here's the solution: get a copy of Read this Next...open it to a page at random, and read whatever book is discussed on that page."
-Bob Etier, Technorati.com

"[A] brisk and often funny guide, bristling with snap judgments, the snappier the better."
-Wall Street Journal
Advertisement