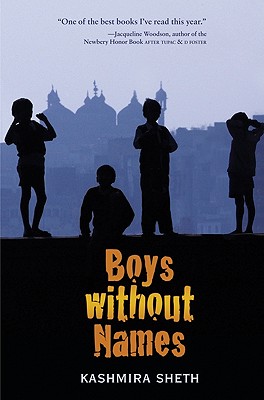 Boys without Names (Hardcover)
Balzer + Bray, 9780061857607, 320pp.
Publication Date: January 19, 2010
Other Editions of This Title:
Paperback (5/24/2011)
Prebound (5/24/2011)
* Individual store prices may vary.
Description
For eleven-year-old Gopal and his family, life in their rural Indian village is over: We stay, we starve, his baba has warned. With the darkness of night as cover, they flee to the big city of Mumbai in hopes of finding work and a brighter future. Gopal is eager to help support his struggling family until school starts, so when a stranger approaches him with the promise of a factory job, he jumps at the offer.
But Gopal has been deceived. There is no factory, just a small, stuffy sweatshop where he and five other boys are forced to make beaded frames for no money and little food. The boys are forbidden to talk or even to call one another by their real names. In this atmosphere of distrust and isolation, locked in a rundown building in an unknown part of the city, Gopal despairs of ever seeing his family again.
But late one night, when Gopal decides to share kahanis, or stories, he realizes that storytelling might be the boys' key to holding on to their sense of self and their hope for any kind of future. If he can make them feel more like brothers than enemies, their lives will be more bearable in the shop—and they might even find a way to escape.
About the Author
Kashmira Sheth spoke to many child workers in Mumbai as part of her research for Boys Without Names. Kashmira herself was born in Gujarat, India, and moved to the United States when she was seventeen to attend university. She is the author of Blue Jasmine, an IRA Children's Book Award Winner; Koyal Dark, Mango Sweet; and Keeping Corner, an ALA Best Book for Young Adults. The mother of two daughters, Kashmira lives with her husband in Madison, Wisconsin.
Praise For Boys without Names…
Sheth's lush prose creates a vivid portrait of slave labor without losing the thread of hope that Gopal clings to.
— Publishers Weekly

"Kashmira Sheth gives a name to the pernicious practice of child bondage in her unforgettable portrait of Gopal, a boy enslaved in a grueling factory job in India. And she shows the power of story telling to inspire acts of kindness and courage in even the darkest of situations."
— Patricia McCormick, author of of National Book Award Finalist SOLD

Boys Without Names is not a heartbreaking story, even if there are moments that break the heart. Instead, it is a story about growing up, about learning and relearning the meaning of family. This is one of the best books I've read this year.
— Jacqueline Woodson, author of the Newbery Honor book After Tupac and D Foster

With echoes of the Lost Boys in Nancy Farmer's The House of the Scorpion and even Slumdog Millionaire, this a tightly woven tale of a boy's will to survive, the power of story and the bond of friends tied together in the hope of a better day.
— BookPage
or
Not Currently Available for Direct Purchase