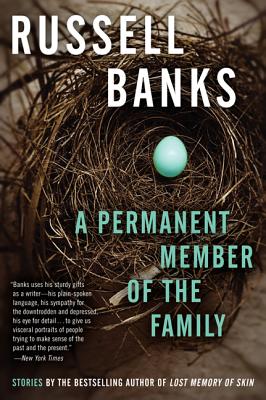 A Permanent Member of the Family
Paperback

* Individual store prices may vary.
Other Editions of This Title:
Digital Audiobook (11/11/2013)
Compact Disc (11/12/2013)
Compact Disc (11/12/2013)
Description
Suffused with Russell Banks's trademark lyricism and reckless humor, the twelve stories in A Permanent Member of the Family examine the myriad ways we try—and sometimes fail—to connect with one another, as we seek a home in the world.
In the title story, a father looks back on the legend of the cherished family dog whose divided loyalties mirrored the fragmenting of his marriage. "A Former Marine" asks, to chilling effect, if one can ever stop being a parent. And in the haunting, evocative "Veronica," a mysterious woman searching for her daughter may not be who she claims she is.
Moving between the stark beauty of winter in upstate New York and the seductive heat of Florida, Banks's acute and penetrating collection demonstrates the range and virtuosity of both his narrative prowess and his startlingly panoramic vision of modern American life.
Praise For A Permanent Member of the Family…
"Old-fashioned short fiction: honest, probing and moving." — Kirkus Reviews
"[O]ne of the best books I've read in years" — Real Simple magazine
"Mr. Banks uses his sturdy gifts as a writer — his plain-spoken language, his sympathy for the downtrodden and depressed, his eye for detail (those unstrapped shoes, flipped off Ellen's feet) — to give us visceral portraits of people trying to make sense of the past and the present." — New York Times
"While these exquisitely crafted stories are highly personal, they are also permeated by a sense of sadness about the death of the American dream, as the country struggles, out of work and seemingly out of hope." — Publishers Weekly
A resounding collection by an essential American writer. — Booklist
"…an exceptionally well-written, engaging, unified collection" — New York Journal of Books
"…Banks's short fiction is relentlessly realistic, never cynical, and always attentive to the human condition." — Shelf Awareness
Banks is a master of the kind of old-school, unadorned realism that hasn't really been the fashion in short stories since the days of Raymond Carver. — New York Times Book Review
"These characters are all broken in wonderfully literary ways ('When a terrible thing happens, and it's your own damn fault, there's no closure, he thought. Whatever happened, you live with it.') but Banks is primarily concerned with telling a good story, and the pages fly by." — Daily Beast
"It's a gift to experience such expertly evoked pathos, to see how Banks meticulously picks out and exposes the strands of his characters' muddled and suppressed feelings." — Boston Globe
"[T]he writing rings with the weight of decisions made in constrained circumstances, decisions that become more moving because of how common they are… There's a reflective quality, a sense of choices made, of consequence, in which redemption and resignation may be two sides of the same coin." — Los Angeles Times
"His prose is strong and meaty - high in content, low in pretension - and he's a dab hand at credible dialogue." — Financial Times
"Banks uses simple language to reveal complex despair in characters you'll recognize from the coffee shop nearest you." — People
"Unlike many short stories, Banks tells gratifying, sewed-up tales. Readers may be left wanting more from the characters he creates, but he doesn't leave his stories unraveled. True to form, he ties them up, not neatly, but thoroughly and satisfyingly." — Lisa Ko, author of The Leavers
"All of these are good, strong, perceptive stories about individuals trying to make connections or find comfort in a world where they feel neither necessary nor desired." — Chicago Tribune
"[V]irtually all are remarkable sharp-focus snapshots of the giddy whirl and tragicomedy of modern-day American life." — Minneapolis Star Tribune
"[T]hese stories are straightforward, honest accounts of lives in moments of small change, poignant and gorgeous and nearly heartbreaking in their understatement." — Oregonian
"Difficult to put down and even more difficult to forget." — Roanoke Times
"The discoveries made by most of the other characters in this collection remain, by contrast, rather dark. But taken together, these stories comprise a richly composed tribute to life." — NPR (All Things Considered)
Ecco, 9780061857669, 240pp.
Publication Date: September 9, 2014
About the Author
Russell Banks, twice a finalist for the Pulitzer Prize, is one of America's most prestigious fiction writers, a past president of the International Parliament of Writers, and a member of the American Academy of Arts and Letters. His work has been translated into twenty languages and has received numerous prizes and awards, including the Common Wealth Award for Literature. He lives in upstate New York and Miami, Florida.