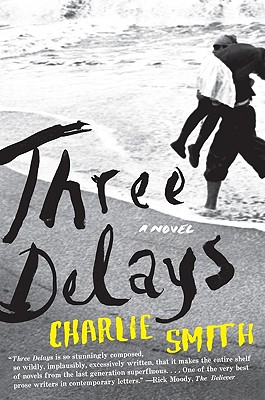 Three Delays
A Novel
Paperback

* Individual store prices may vary.
Description
"Mind-blowing… This isn't Smith's first tale of toxic and nihilistic obsession, but it is his most ravishing, painfully funny, and wildly mythic." — Booklist (starred review)
"Smith is not only a spectacular stylist but also a visionary." —Washington Post Book World
From Charlie Smith (Cheap Ticket to Heaven, Chimney Rock, Shine Hawk), author of three New York Times Notable Books and a literary stylist whose "writing can make the mountains ring" (New York Times Book Review), comes his first novel in more than a decade, Three Delays, which follows the troubled lives of two lovers as they combat their passions and each other. In the words of James Dickey, "Writers after Charlie Smith will have to take him into account, but I doubt if any will equal or surpass him."
Praise For Three Delays: A Novel…
"Hallucinatory … a cataract of gorgeous sentences, a paean to a lurid, lavish, buzzing and heart-pulping world. … And its absolute apartness - in its gasping energy, in the ravishing excess of Charlie Smith's prose - is something to be celebrated." — New York Times Book Review
"The book soars and scuffles according to the logic of its language rather than plot; it's a quietly masterful work by Charlie Smith, an award-winning poet and novelist." — Los Angeles Times
"Three Delays is so stunningly composed, so wildly, implausibly, excessively written, that it makes the entire shelf of novels from the last generation superfluous....one of the very best prose writers in contemporary letters." — Rick Moody, The Believer
"Ecstatic and extravagant….Not since poor F. Scott Fitzgerald drew his indelible portraits of the even more troubled Zelda has American fiction been blessed - or maybe cursed - by lovers who are simultaneously so right and so wrong for each other….a reading pleasure as heady as they come." — Seattle Times
"In his sixth novel, his startling, rhapsodic descriptions are mind-blowing, as are his feral, weirdly smart, self-destructive characters, their lashing dialogue, and their insane, heartbreaking predicaments. This isn't Smith's first tale of toxic and nihilistic obsession, but it is his most ravishing, painfully funny, and wildly mythic." — Donna Seaman, Booklist, starred review
"Like Under the Volcano, fueled by every drug in the world instead of mezcal, Charlie Smith's first novel in fourteen years tracks a pair of twisted lovers across hot and sweaty locales." — Daily Candy, Summer Reading List
Harper Perennial, 9780061859458, 368pp.
Publication Date: May 18, 2010
About the Author
Charlie Smith is the author of eight novels and eight books of poetry. He has won numerous awards, grants, and fellowships, including the Aga Khan Prize, the Levinson Prize, the J. Howard and Barbara M. J. Wood Prize, a Guggenheim Fellowship, and a grant from the National Endowment for the Arts. His writing has appeared in numerous publications, including the New Yorker, the Paris Review, and the New York Times. Five of his books have been named as New York Times Notable Books of the Year or as Editors' Choices. He lives in New York City.