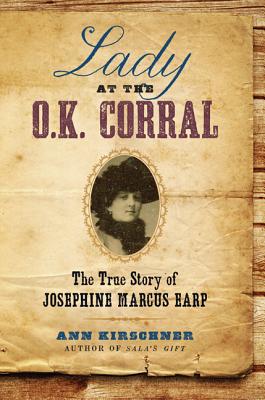 Lady at the O.K. Corral
The True Story of Josephine Marcus Earp
Hardcover

* Individual store prices may vary.
Other Editions of This Title:
Paperback (3/4/2014)
Description
Lady at the O.K. Corral: The True Story of Josephine Marcus Earp by Ann Kirschner is the definitive biography of a Jewish girl from New York who won the heart of Wyatt Earp.
For nearly fifty years, she was the common-law wife of Wyatt Earp: hero of the O.K. Corral and the most famous lawman of the Old West. Yet Josephine Sarah Marcus Earp has nearly been erased from Western lore. In this fascinating biography, Ann Kirschner, author of the acclaimed Sala's Gift, brings Josephine out of the shadows of history to tell her tale: a spirited and colorful tale of ambition, adventure, self-invention, and devotion. Reflective of America itself, her story brings us from the post–Civil War years to World War II, and from New York to the Arizona Territory to old Hollywood.

In Lady at the O.K. Corral, you'll learn how this aspiring actress and dancer—a flamboyant, curvaceous Jewish girl with a persistent New York accent—landed in Tombstone, Arizona, and sustained a lifelong partnership with Wyatt Earp, a man of uncommon charisma and complex heroism.
Praise For Lady at the O.K. Corral: The True Story of Josephine Marcus Earp…
"Ann Kirschner has cleverly identified a parallel story buried under the debris of history: that of Josephine Marcus, for early 50 years Earp's common-law wife and a valiant frontierswoman in her own right."
— New York Times Book Review

"Scrumptious is the only word to describe Lady at the O.K. Corral. This quick-paced biography has it all going on: sex, beauty, blood, guns, bad men and wild girls."
— USA Today

"Splendid."
— Wall Street Journal

"Lady is as engaging as a novel. She has provided a delightful, thoughtful account of a little-known woman who shared a half-century of devotion with a legend."
— American Jewish World

"Ann Kirschner's well-researched Lady at the O.K. Corral exposes what many never knew about Earp and his times, but also significantly repositions what we did know with a commanding narrative."
— Express Milwaukee

"Highly recommended for Old West enthusiasts and scholars, high school and up."
— Library Journal (starred review)

"Kirschner restores Josephine to her rightful historical place."
— The Forward

"An admiring and vivacious biography. . . . Kirschner's fascinating profile captures the restless spirit of the frontier as deftly as it does Josephine's energy, affection, and limitless appetite for adventure."
— Publishers Weekly

"Well-researched. . . . [An] engaging biography."
— Washington Independent Review of Books

"With vividness and certainty, Kirschner lays her story to rest at last. Tragedy, adventure, romance and scholarly investigation come together like pioneers to a boomtown, with something for Earp worshipers and casual readers alike."
— Kirkus Reviews

"Ann Kirschner brings a fresh, lively perspective to one of the great stories of the American frontier. Lady at the OK Corral reveals a fascinating intersection of Jewish history and the Wild West; its engaging narrative both celebrates and demystifies a legendary time and place."
— Julie Salamon, author of Wendy and the Lost Boys

"The story of Josephine Earp proves that even the best lawman in the Wild West needed a good woman to stand beside him, as improbable as their romance was, and as riveting a read as this book most certainly is."
— Thane Rosenbaum, author of The Golems of Gotham and Payback: The Case for Revenge

"Thanks to Ann Kirschner's brilliant Lady at the O.K. Corral, we finally have the definitive story of Josie Earp. . . . This is a must-read book for anyone who loves narrative nonfiction, or simply enjoys a hellaciously well-told tale."
— Jeff Guinn, author of The Last Gunfight: The Real Story of the Shootout at the O.K. Corral - And How It Changed the American West

"In this remarkable feat of historical sleuthing, Lady at the O.K. Corral paints a vibrant portrait of an uncommon couple whose love for one another and shared thirst for adventure took them to the farthest reaches of the Wild West during its blustery boom times."
— Bruce J. Dinges, Arizona Historical Society

"A tour de force in the detective work of biography Ann Kirschner writes Josephine Sarah Marcus Earp back into American history. . . . A thoughtful and entertaining addition to the history of the American West, Jews in America, and the role of women in society."
— David S. Ferriero, Former Director of the New York Public Libraries

"Engrossing. . . . The life of Josephine that unfolds so vividly in these pages is as colorful and complicated as that of Wyatt and hers, the reader will discover, was the more remarkable journey."
— Stephen Aron, UCLA and Autry National Center

"With a passion for research and an engaging flair for prose, Ann Kirschner has composed a biography of Josephine Marcus Earp that is a pleasure to read."
— Harriet Rochlin, author of Pioneer Jews: A New Life in the Far West

"In this vivid tale of romance and high drama, Ann Kirschner reveals the dark secrets of Wyatt Earp's past and Josephine's Jewish immigrant family."
— Abigail Pogrebin, author of Stars of David

"A great piece of historical detection, Kirschner brings to life a woman who had previously been just a footnote, just an oddity. This book brims with the vibrancy of the Arizona Territory."
— Hasia R. Diner, author of A Time for Gathering

"Kirschner brings Josephine out of the shadows to at last tell her story, a colorful and spirited tale of ambition, grit, adventure and self-invention, all set against the exciting backdrop of the panorama of the West."
— King's Features Review

"A colorful tale of ambition, adventure, self-invention and romance."
— Bismarck Tribune
Harper, 9780061864506, 304pp.
Publication Date: March 5, 2013
About the Author
Ann Kirschner is university dean of Macaulay Honors College at the City University of New York. She began her career as a lecturer in Victorian literature at Princeton University, where she earned her PhD. A writer of wide-ranging interests, she is the author of Sala's Gift and an innovator in education, media, and technology. She lives in New York City with her family.
or
Not Currently Available for Direct Purchase