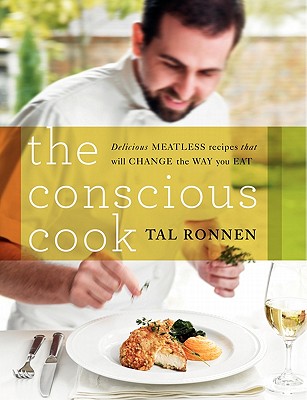 The Conscious Cook (Hardcover)
Delicious Meatless Recipes That Will Change the Way You Eat
William Morrow Cookbooks, 9780061874338, 240pp.
Publication Date: October 6, 2009
* Individual store prices may vary.
Description
The Conscious Cook shows readers that avoiding the health risks and ethical dilemmas of eating meat and dairy does not mean sacrificing taste or satisfaction. The starters, soups, sandwiches, entrées, and desserts here offer culinary adventure that will truly revolutionize the way the world experiences meatless food.
A former steak-lover himself, Chef Tal struggled for years on a vegan diet that left him filled with cravings for meat and dairy. Frustrated by the limited options available and unwilling to sacrifice the delicious flavors he associated with eating meat, he decided to create vegan meals that could hold their own at the center of the plate.
Chef Tal found that by applying traditional French culinary techniques to meatless cuisine, he was able to create delicious meals full of rich flavor and healthy fat—meals that any food-lover, even devoted meat-eaters, would find completely satisfying.
Seventy groundbreaking recipes later, Chef Tal is ready to share his magic. The Conscious Cook features vegan versions of tried-and-true dishes such as Oysters Rockefeller, Caesar Salad, Corn Chowder, and Paella, as well as adventurous new cuisine like Lemongrass Consommé with Pea Shoot and Mushroom Dumplings and Peppercorn-Encrusted Portobello Fillets. A full-color photo accompanies each of the recipes. Also included are engaging stories from influential people in the vegan world; a peek into Chef Tal's pantry and kitchen; a guide to eating seasonally; and a selection of dinner party menus.
About the Author
Chef Tal Ronnen is one of the most celebrated vegan chefs working today. In 2008, he became known nationwide as the chef who prepared vegan meals for Oprah Winfrey's 21-day vegan cleanse. He consults with restaurants, universities, and corporations around the country on vegan menu additions and conducts master vegetarian workshops at Le Cordon Bleu–affiliated culinary schools nationwide. In addition, he has worked at the top vegan restaurants in the United States, including Sublime in Fort Lauderdale and Candle 79 in New York City. Chef Tal lives in Los Angeles and Vancouver.
Praise For The Conscious Cook: Delicious Meatless Recipes That Will Change the Way You Eat…
Named one of the top ten cookbooks of the year.
— Epicurious

#3 New York Times bestselling book
— New York Times

#14 Wall Street Journal Bestseller
— The Wall Street Journal

"Wow, wow, wow! I never imagined meatless meals could be so satisfying."
— Oprah Winfrey, on Oprah.com

"Meeting Tal has changed our lives for the better. We wish everyone could experience his cooking. It's delicious and healthy at the same time—sometimes that's a hard balance, but not with Tal."
— Ellen DeGeneres and Portia de Rossi

"You name 'em, he's fed 'em. Tal Ronnen is no up-and-comer—he has long since arrived and taken over the culinary world of veganism."
— Rory Freedman, author of Skinny Bitch

"What's great about this cookbook is its range and its approach to meatless cooking. No main dish ever feels like a side dish . . . Instead, each meal is made to be complete and satisfying."
— fitsugar.com

"Tal Ronnen's assertion is that [The Conscious Cook] will change the way you eat. It will, for the better."
— Basil & Spice

What you'll probably be most conscious of as you prepare the 75 vegan recipes from "The Conscious Cook" is how delicious the food is.
— Lisa Messinger, creators.com

"Tal's recipes are simply fantastic . . . Whether you are a vegan, vegetarian, or committed meat eater, this is a book that can help you down the path of higher-quality, good tasting, humane eating."
— Wayne Pacelle, President and CEO of The Humane Society of the United States
Book Videos