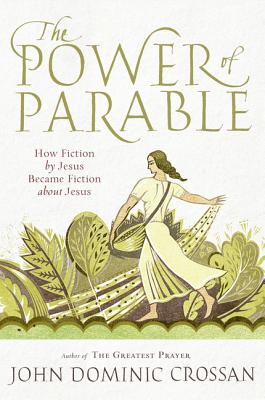 The Power of Parable: How Fiction by Jesus Became Fiction about Jesus (Hardcover)
How Fiction by Jesus Became Fiction about Jesus
HarperOne, 9780061875694, 259pp.
Publication Date: March 6, 2012
Description
The world's foremost Jesus scholar John Dominic Crossan shows us how the parables present throughout the New Testament not only reveal what Jesus wanted to teach but also provide the key for explaining how the Gospels' writers sought to explain the Prophet of Nazareth to the world. In this meaningful exploration of the metaphorical stories told by Jesus and the Gospel writers, Crossan combines the biblical expertise of his The Greatest Prayer with a historical and social analysis that harkens closely to his Jesus: A Revolutionary Biography, creating an illuminating and nuanced exploration of the Scripture that fans of Marcus Borg and Bart Ehrman will find fascinating and essential.

Praise For The Power of Parable: How Fiction by Jesus Became Fiction about Jesus…
"A refreshing and stunningly insightful treatment of the gospels as parables. In this book John Dominic Crossan has solidified his reputation as the greatest New Testament scholar of our generation."
-John Shelby Spong, author of Re-Claiming the Bible for a Non-Religious World

"John Dominic Crossan, who has given the world a series of insightful books on Jesus, has done it again. His innovative presentation… offers a brilliant new way of looking at parable and metaphor in the gospels and in the life of Jesus of Nazareth."
-Marvin Meyer, Ph.D., Griset Professor of Bible and Christian Studies Chapman University

"Moving from the parables of Israel's Scriptures to the parables told by Jesus of Nazareth to the parables of his life recorded in the ancient Gospels, Crossan combines acute historical investigation with challenging theological observation. In so doing, he recovers the profundity, and the provocation, of the biblical tradition."
-Amy-Jill Levine, author of THE MEANING OF THE BIBLE

"This book is like unto a virus, which a crafty leprechaun took, and infected our preferred operating systems with a Jesus O/S, that is incompatible with previous versions. Verily I say unto ye, Fortunate is the church if a little Crossan goes viral. It may leaveneth the whole lump."
-Rev. David Felten & Rev. Jeff Procter-Murphy, co-creators of the Living the Questions series

"A remarkable and important book for Christians and for all who seek to understand the Bible better—Crossan combines his customary literary and historical brilliance with fresh insights that illuminate not only the parables of Jesus but much of the Bible as a whole."
-Marcus J. Borg, author of Speaking Christian

"John Dominic Crossan has done it again. His innovative presentation of how Jesus told stories about God's kingdom and how the gospel authors told stories about Jesus offers a brilliant new way of looking at parable and metaphor in the gospels and in the life of Jesus of Nazareth."
-Marvin Meyer, Ph.D., Griset Professor of Bible and Christian Studies Chapman University

"A fascinating book, written with Crossan's usual lucidity but likely to disturb conservative Christians; a must for most academic and seminary libraries as well as many church groups and pastors."
-Library Journal

"Crossan's exceptional clarity and methodical presentation combine to make this one of the best, most enthralling Bible-study courses many readers will ever take."
-Booklist (starred review)

"Offers valuable and accessible insights into the intentions of the evangelists and the revolutionary content of the gospels."
-Publishers Weekly
Advertisement