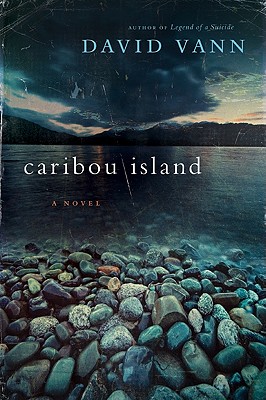 Caribou Island
A Novel
Hardcover

* Individual store prices may vary.
Other Editions of This Title:
Digital Audiobook (1/17/2011)
Paperback (1/3/2012)
Compact Disc (1/18/2011)
Hardcover (4/1/2012)
MP3 CD (1/18/2011)
Compact Disc (1/18/2011)
Description
"Dazzling…. Vann knows the darkness but he writes from the compassionate light of art.  This is an essential book."  —Robert Olen Butler, Pulitzer Prize-winning author of A Good Scent from a Strange Mountain

"Exceptional….An unflinching portrait of bad faith and bad dreams." —Ron Rash, author of Burning Bright

Set against the backdrop of Alaska's unforgiving wilderness, Caribou Island is David Vann's dark and captivating tale of a marriage pulled apart by rage and regret.  With this eagerly anticipated debut novel, a masterful follow-up to his internationally bestselling short fiction anthology, Legend of a Suicide, Vann takes up the mantle of Louise Erdrich, Marilyn Robinson, and Rick Moody, delivering a powerfully wrought, enthrallingly emotional narrative of struggle and isolation.  


Praise For Caribou Island: A Novel…
"Caribou Island gets to places other novels can't touch. . . . Though it wears the clothes of realism—the beautiful exactness of the language, the unerring eye for detail—it takes us someplace darker, older, more powerful than the daylit world."
— Kevin Canty, New York Times Book Review

"Vann's beautiful, spare portrait of a marriage's end casts a singular spell."
— People

"Caribou Island builds to an horrific climax and stands as an engrossing and disturbing work of art."
— Alan Cheuse, NPR

"Legend earned him the acclaim of being one of the best writers of his generation. His first novel is a worthy successor. . . . Caribou Island gives us a climax as haunting and realized as any in recent fiction."
— Wayne Harrison, San Francisco Chronicle

"Moving, powerful . . . Vann's people are hurtling irretrievably toward a dark outcome, and while putting the book down might save you from it, you can't stop reading, just as you can't unlearn its truths."
— Caitlin Roper, Los Angeles Times

"Vann forces us to watch, to pay attention. He refuses to provide his characters—or us—with an easy, happy resolution. Instead, he gives us something much more valuable: an unflinching portrait of what can happen to lives when hopes and ambitions wander off, get lost, and surrender to the merciless cold."
— Kevin Grauke, Philadelphia Inquirer

"Both [Caribou Island and Legend of a Suicide] are intense tragedies set against an unforgiving landscape. Both are delivered in clear, lyric prose. . . . Vann isn't delivering happy endings, but he is delivering life in crystalline, unforgettable prose."
— Robin Vidimos, Denver Post

"Vann is a poet of the animal swings between men and women struggling for the upper hand."
— Karen R. Long, Cleveland Plain Dealer

"Compelling. As the plot moves toward a gruesome finale, the reader is submerged in 'slow waves of pressure, water compacting but no edge to it.'"
— New Yorker

"[Vann] has come fully into his own voice, from the striking opening scene to the fateful final sentence.... An oddly exhilarating horror story in which human demons spring from the smoke of their own disappointment and regret. Caribou Island earns Vann a seat beside the masters. A+"
— Sheerly Avni, San Francisco Magazine

"Transfixing and unflinching. . . . Full of finely realized moments. . . . Comparison with Cormac McCarthy is fully justified."
— Toby Lichtig, Times Literary Supplement (London)

"Greatness has arrived: Caribou Island is a powerful first novel of love, lust, and regret set on an island near Soldotna, a fishing town on Alaska's Kenai Peninsula.... Vann slowly and quietly builds the drama toward an emotional gut-punch of an ending—think Cormac McCarthy on ice."
— Outside Magazine

"[Vann uses] American landscape as a metaphor to tremendous effect. . . . Vann's brilliance as a writer lies in his willingness to expose everything. . . . A writer to read and reread; a man to watch carefully."
— The Economist

"An existential page-turner and literary breakthrough. . . . The novel's primal power, moral depth, and narrative command show the author making a big leap."
— Don McLeese, Kirkus Reviews

"A taut and riveting study of isolation, insanity, and violence."
— Bret Anthony Johnston, Men's Journal

"The reader's awareness of real deaths, real griefs, gives his work something of the lethal intensity of handling an unsheathed knife: at times the power is exhilarating, and at other times it cuts bloodily and to the quick."
— Olivia Laing, New Statesman

"Bleak, beautifully written and bitterly funny. . . . What really distinguishes Vann's work is his feel for his wintry setting. . . . But he is, oddly, just as memorable when describing a soul-crushing afternoon at the local fish cannery."
— Jake Kerridge, Financial Times

"Compared to Caribou Island, The Road is grim-lit lite. . . . Welcome to Vann's demon land."
— Ian Sansom, London Review of Books

"Reaffirms Vann as a talented conjurer of the natural world, and of our nakedness in the face of its power and cruel impassivity."
— Ian Crouch, New Republic

"Caribou Island is a beautiful, richly atmospheric if unsettling novel, and deserves to consolidate Vann's position among America's literary high flyers."
— Melanie McGrath, London Evening Standard

"Beautifully gloomy….Compelling….[Caribou Island] triumphs in its juxtaposition of claustrophobia-inducing relationships against the forbidding vastness of our 49th state….Vann uses chiseled phrases and verb-less declarations to evoke the natural ruggedness of the setting as well as the character's emotional distress."
— Tyrone Beason, Seattle Times

"As bleak as an Alaskan winter, but it also wields an unforgiving, elemental power that is breathtaking to read."
— Doug Johnstone, Independent (UK)

"Vann summons an atmosphere of terrestrial and emotional permafrost so intense that it'll freeze your bones."
— Lee Randall, Scotsman

"Arguably the first literary masterpiece to take place on the Kenai Peninsula. . . . Like a macabre machine, the narrative ratchets ever tighter until the closing image of one final, forlorn hope that will be smashed as soon as the story-telling stops and the reader closes the book."
— Mike Dunham, Anchorage Daily News

"Vann keeps the pages turning with the skill of the best mystery novelists."
— Patrick Condon, Associated Press

"It's rare when a fiction writer of extraordinary literary merit is equally brilliant in both the short story and novel forms. David Vann is a dazzling exception….Vann knows the darkness but he writes from the compassionate light of art. This is an essential book."
— Robert Olen Butler, Pulitzer Prize-winning author of A Good Scent from a Strange Mountain

"In this exceptional first novel by the celebrated author of Legend of a Suicide, an oncoming Alaska winter becomes metaphor as a troubled marriage moves implacably toward a bleak reckoning. Caribou Island is an unflinching portrait of bad faith and bad dreams."
— Ron Rash, author of Burning Bright

"Vann's brilliance lies in his willingness to expose all. . . . Desolate, violent, heartbreaking. . . . A striking novel filled with the violence borne of a bitter life."
— Kirkus Reviews (Starred Review)

"Expect to have to stop and think now and then as answers may be hard to find, but the questions are everywhere. Read it and be prepared to expand your mind."
— The Daily Post (New Zealand)
Harper, 9780061875724, 304pp.
Publication Date: January 18, 2011
About the Author
Published in twenty languages, David Vann's internationally bestselling books have won fifteen prizes, including best foreign novel in France and Spain, and have appeared on seventy-five Best Books of the Year lists in a dozen countries. He's written for the New York Times, Atlantic, Esquire, Outside, Sunset, Men's Journal, McSweeney's, and many other publications, and he has been a Guggenheim, Stegner, and NEA fellow.
or
Not Currently Available for Direct Purchase