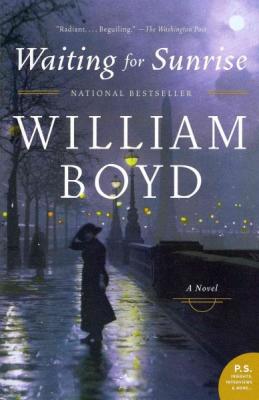 Waiting for Sunrise (Paperback)
A Novel
Harper Perennial, 9780061876776, 384pp.
Publication Date: January 2, 2013
* Individual store prices may vary.
Description
From one of our most celebrated and imaginative writers comes a spellbinding novel about deception, betrayal, psychoanalysis, and the mysteries of the human heart. William Boyd follows his critically acclaimed novels A Good Man in Africa, Brazzaville Beach, and Ordinary Thunderstorms with a razor-sharp, incandescent thriller in Waiting for Sunrise. A provocative exploration of the line between consciousness and reality is nested within a tense, rollercoaster plotline following as a young English actor ensnared in a bewildering scandal with an enigmatic woman in early twentieth-century Vienna. Sophisticated, page-turning, and unforgettable, Boyd's Waiting for Sunrise is a triumph of literary fiction from one of the most powerful, thought-provoking writers working today.

About the Author
William Boyd is also the author of A Good Man in Africa, winner of the Whitbread Award and the Somerset Maugham Award; An Ice-Cream War, winner of the John Llewellyn Rhys War Prize and short-listed for the Booker Prize; Brazzaville Beach, winner of the James Tait Black Memorial Prize; Restless, winner of the Costa Novel of the Year; Ordinary Thunderstorms; and Waiting for Sunrise, among other books. He lives in London.
Praise For Waiting for Sunrise: A Novel…
"It's ages since I read a novel that offers such breathlessly readable narrative enjoyment, such page-by-page storytelling confidence and solidity. Boyd has a positive genius for pace and description."
— The Independent

"Always a smooth and expert storyteller, Boyd effortlessly combines historical detail with a sexy, galloping narrative that proves irresistible."
— People (4 stars)

"Boyd retrofits a genre full of familiar devices and character types with finer textures and deeper psychology than it typically boasts. . . . Waiting for Sunrise manages to conjure an atmosphere of genuine disorientation that most spy novels gesture toward and few, if any, attain."
— Laura Miller, Salon

"Boyd is a born story teller whose clear, taut prose never gets in the way of his characters and their unpredictable fates."
— The Wall Street Journal

"Thoroughly entertaining. . . . Waiting for Sunrise has the pace of a spy thriller, with code-cracking and double-crossing aplenty."
— The New Yorker

"Sex, psychiatry and Vienna on the eve of World War I - those are promising ingredients for a novel. And William Boyd makes the most of them. . . . Boyd's narrative moves briskly, and his local color is deftly done."
— The Seattle Times

"As ever with Boyd there is an effortlessness to the prose and a piercing acuity to the period detail and evocation of place, along with thrilling set pieces. . . .[This book] proves that rarest of beasts: a tantalizingly experimental work that is also an immensely satisfying page-turner."
— The Telegraph

"This is the sort of novel you finish, then begin again to revisit your favourite bits. . . . More than anything Waiting for Sunrise is a gleeful celebration of storytelling -- sly, clever, frequently hilarious, always involving. . . . This is the literary event of the year."
— The Times (UK)

"A page-turner. . . . A thinking person's thriller."
— Good Housekeeping

"Waiting for Sunrise retains a consistent intrigue and a splendidly intricate plot. . . . The denouement plays out with characteristic suspense and masterful design. . . . [Boyd has] a truly remarkable imagination."
— The Huffington Post

"A literary thriller that genuinely thrills, a plot-driven novel assembled by a master of plotting. The deftness with which Boyd knits together a complex cast of characters is immaculate. . . . It demonstrates yet again this writer's unrivalled versatility and consistency."
— The Financial Times

"Superb. . . . To read a William Boyd novel is to open a bottle of wine, light a fire, sit back in your favourite armchair and trust that the master practitioner will take you on an intriguing and unpredictable journey. He's done it again."
— The Spectator (UK)

"Fans of previous Boyd novels will find themselves on gratifyingly familiar ground in Waiting for Sunrise. . . . Few contemporary writers are able to evoke the ambiance and drama of our recent past as forcefully as Boyd. . . . Boyd's prose is often radiant."
— The Washington Post Book World

"An evocative mix of sex, spies, and psychoanalysis. . . . Fans of the author will love and recognize all the hallmarks of Boyd's best books."
— CNN.com

"A tantalizing, fast-paced spy novel. . . . As seductive as it is, Waiting for Sunrise is no bodice-ripper. It's a brainteaser, charged with uncertainty and danger, electric with restraint."
— The New York Times Book Review

"Powerfully entertaining. . . . Boyd's ability to evoke a sense of time and place is unmatched. . . . He has been perfecting the craft of globetrotting entertainment for the past three decades."
— The Richmond Times-Dispatch

"A thoughtfully plotted story, whose twists and turns reveal the price its characters pay in trust. . . . Boyd is a nimble and entertaining writer."
— The Philadelphia Inquirer

"Waiting for Sunrise does the neat trick of evolving from a historical romance into a seat-of-the-pants spy thriller. . . . This is Boyd's stage, on which he is a virtuoso."
— The San Antonio Express-News

"The narrative in this novel is almost seamless. . . . This atmospheric novel is elegantly crafted by a London writer who serves up a rich portrayal of human psychology and a plot that is both engaging and imaginative."
— The Tucson Citizen