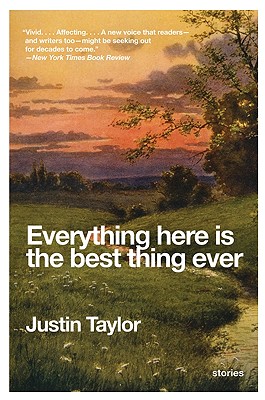 Everything Here Is the Best Thing Ever
Stories
Paperback

* Individual store prices may vary.
Description
Justin Taylor's crystalline, spare, and oddly moving prose cuts to the quick. His characters are guided by misapprehensions that bring them to hilarious but often tragic impasses with reality: a high school boy's desire to win over a crush leads him to experiment with black magic, a fast-food employee preoccupied by Abu Ghraib becomes obsessed with a coworker, a Tetris player attempts to beat his own record while his girlfriend sleeps and the world outside their window blazes to its end. Fearless and astute, funny and tragic, this collection heralds the arrival of a unique literary talent.
Praise For Everything Here Is the Best Thing Ever: Stories…
"The most affecting stories in Everything Here Is the Best Thing Ever are as unpredictable as a careening drunk. They leave us with the heavy residue of an unsettling strangeness, and a new voice that readers - and writers, too - might be seeking out for decades to come."
— New York Times Book Review

"Whether Taylor is exploring youth, human bonds or fantastical scenarios, he displays a gift for illuminating the connections between the mundane and the grotesque."
— Time Out New York

"Justin Taylor is a master of the modern snapshot."
— Los Angeles Times

"In his first book of short stories, Taylor hones a dark-humored and character-themed collection in the tradition of Mary Gaitskill's Bad Behavior or Denis Johnson's Jesus' Son."
— Oxford American

"Mr. Taylor has perfect touch, to frightening effect, does not presume, has power, and promises us new things. There is a debt paid to Donald Barthelme...and a strange undertow of Philip Roth, which makes for a new literary beast."
— Padgett Powell, author of The Interrogative Mood

"The characters in Justin Taylor's stories may be lost, unmoored, out of control, but their creator is astonishingly sure-handed. He unerringly locates the center of these centerless lives, and discerns the shape of their shapelessness."
— David Gates, author of Jernigan

"Taylor's characters would like for time to both speed up and slow down - an impossible, inevitable wish that makes the moments he captures worth savoring."
— BookForum

"There's something of a frustrated chuckle at play, which is how Taylor manages to avoid … cynicism and imbue his characters with that slight glimmer of hope."
— Time Out Chicago

"Beautiful lines leap from the pages, and we gladly enter Taylor's vivid world, even as it transforms what we know about ourselves and others into something slippery and ever-changing."
— Penthouse

"Taylor flirts with poetic language, teasing us with lines so lusciously packed that even a tattoo's description can set the page on fire."
— Bookslut

"Justin Taylor does irony and snark and thwarted idealism uncommonly well."
— Huffington Post

"I'll be surprised if we don't find two standout pieces from this collection in prize-winning anthologies of 2010 short stories....Do we sense some sort of new fictional frontier?"
— Paste Magazine

"These short fictions by Justin Taylor give such a convincing account of the rough crossing of young adulthood that they practically induce seasickness. For his youthful protagonists, identity--emotional, intellectual, sexual--is unstable, constantly in motion."
— Boston Globe

"The book I keep comparing his collection to is another debut, Philip Roth's Goodbye, Columbus....a fantastic debut collection."
— Pank magazine

"These stories...shine with tenderness, humor, and genuine insight."
— Brooklyn Rail

"A young author's nearly perfect collection of short stories....leave[s] you amazed at the power of Taylor's art and his ability to capture the heartbreak and hope for redemption that is the essential undercurrent of life."
— Blogcritics.org
Harper Perennial, 9780061881817, 208pp.
Publication Date: February 9, 2010
About the Author
Justin Taylor is the author of the story collection Everything Here Is the Best Thing Ever and the novel The Gospel of Anarchy. He lives in New York City.