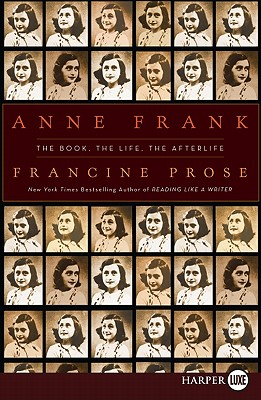 Anne Frank LP: The Book, the Life, the Afterlife (Paperback)
The Book, the Life, the Afterlife
HarperLuxe, 9780061885440, 444pp.
Publication Date: October 1, 2009
* Individual store prices may vary.
or
Not Currently Available for Direct Purchase
Description
"A definitive, deeply moving inquiry into the life of the young, imperiled artist, and a masterful exegesis of Diary of a Young Girl...Extraordinary testimony to the power of literature and compassion" -Booklist (starred review)

In Anne Frank: The Book, the Life, the Afterlife, Francine Prose, author of Reading Like a Writer, deftly parses the artistry, ambition, and enduring influence of Anne Frank's beloved classic, The Diary of a Young Girl. Approved by both the Anne Frank House Foundation in Amsterdam and the Anne Frank-Fonds in Basel, run by the Frank family, this work of literary criticism unravels the complex, fascinating story of the diary and effectively makes the case for it being a work of art from a precociously gifted writer.
Praise For Anne Frank LP: The Book, the Life, the Afterlife…
"Prose is clear-headed, tough, and fair, and her book, though in places immensely sad, is superb. It should be cherished alongside the masterpiece that inspired it."
-Boston Sunday Globe

"Prose admirably recreates the events in the attic over the years—no small feat—[with] all the drama of a classic whodunit…Transcendent criticism…[A] case so brilliantly proven."
-Chicago Tribune

"This is an amazing book…thorough, thoughtfully, beautifully written…[It] focuses on Anne Frank as an accomplished writer…I was thrilled to find it."
-Miami Herald

"Francine Prose...takes Anne's story and adds to it a new perspective....Prose tells this story with tremendous beauty, pathos and a profound awareness of tragic coincidence."
-San Francisco Chronicle

"Prose's book is a stunning achievement…Now Anne Frank stands before us…a figure who will live not only in history but also in the literature she aspired to create."
-Minneapolis Star Tribune

"Illuminating…A compelling story…Francine Prose explains some of the many sides of this remarkable story."
-Washington Post

"Impassioned…compelling…No one has made the case as convincingly and forcefully as Francine Prose does that Anne Frank aspired to be taken seriously as a writer—and should be."
-San Diego Union-Tribune

"Provocative…penetrating…With ANNE FRANK, then, Prose means to remove Frank from the wistful amber of her posthumous celebrity and reveal her to us in a more realistic light."
-Los Angeles Times

"A deeply felt reappraisal of the work and its global impact.... [Prose] makes a persuasive argument for Anne Frank's literary genius."
-New York Times Book Review

"Passionate…A sensitive, beautifully written and fascinating account of the myriad aspects of Anne Frank's life, death and diary"
-Haaretz (Israel)

"A valuable resource…useful and well-written and –researched"
-Philadelphia Inquirer

"Compelling…With compassion and grace, Prose looks at Anne Frank as Anne wished to be seen: above all, as a writer."
-Christian Science Monitor

"Talented author Francine Prose approaches Anne Frank with the awe and respect of one writer for another…Prose's research uncovers what many will be surprised to discover."
-Jerusalem Post

"Substantially researched and wide-ranging…This probing and informed book introduces readers to a far more complex and accomplished young woman than the Anne we met in our adolescence."
-Jewish Book World

"An impressively far-reaching critical work, an elegant study both edifying and entertaining...full of keen observations and fascinating disputes."
-New York Times

"Provocative.... A penetrating analysis."
-Los Angeles Times

"Prose is commanding and illuminating...definitive, deeply moving inquiry into the life of the young, imperiled artist.... Extraordinary testimony to the power of literature and compassion."
-Booklist (starred review)

"A fascinating book...riveting to read..."
-Anne Roiphe, Moment Magazine
Advertisement