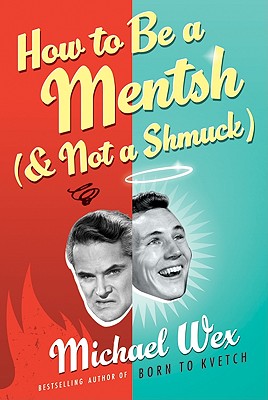 How to Be a Mentsh (and Not a Shmuck) (Paperback)
HarperLuxe, 9780061885891, 264pp.
Publication Date: September 8, 2009
Other Editions of This Title:
Paperback (8/24/2010)
Hardcover (9/8/2009)
* Individual store prices may vary.
Description
Sure to resonate with Jewish and Gentile readers alike, How to Be a Mentsh (and Not a Shmuck) is a wise and witty self-help manual for pursuing happiness while still acting with integrity, honor, and compassion. Michael Wex, New York Times bestselling author of Born to Kvetch and Just Say Nu, draws on sources that range from the Talmud and Yiddish proverbs to contemporary music and movies in this insightful guide that explores not only human nature and psychology but our duties to ourselves and one another.
About the Author
Novelist, lecturer, and translator Michael Wex is one of the leading lights in the revival of Yiddish, and author of the New York Times bestseller Born to Kvetch and its follow-up, Just Say Nu.
Praise For How to Be a Mentsh (and Not a Shmuck)…
"Funny...astute and relevant."
— San Francisco Chronicle

"…blessed with humor, grace and a well-developed sense of contemporary pop culture (references range from Genesis to Groundhog Day) ... a consistent pleasure: entertaining, educational…with more than a few thought-provoking suggestions for achieving mentsh-hood (or at least avoiding shmuck-itude)."
— Publishers Weekly (starred review)

"The Sneaky Chef of contemporary Jewish culture…Wex writes books that look and read like snacks, but he hides scholarly vegetables between the covers…Wex has achieved on the bookshelf what Hillel advised that we all do in life: In a place where there are no mentshn, try to be a mentsh."
— Forward

"Just superb….The book is funny, too, and is certainly the finest explanation of the religious significance of The Apartment and Groundhog Day. Talmud, Torah, Jack Lemmon, Bill Murray--need I say more?"
— Mark Oppenheimer, author of Thirteen and a Day: The Bar and Bat Mitzvah Across America

"[A]n often humorous and frequently provocative guide to being a good person, a mentsh....This book reflects extensive learning, serious thought, a sense of the absurd and the unfair, as well as an impish willingness to play the mazik (scamp)."
— Jewish Book World

"[S]uperb...brilliant...[O]ne of the leading lights in the Yiddish revival, Michael Wex distills the age-old principles that have been the nucleus of Jewish survival...into some relevant lessons, delightful anecdotes, and real-world applications for not just Judaism but all faiths."
— Sacramento Book Review