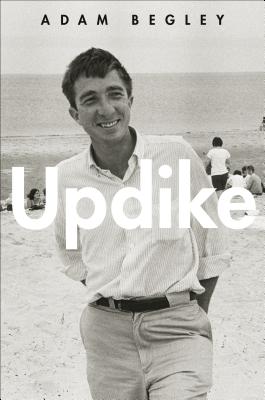 Updike
Hardcover

* Individual store prices may vary.
Other Editions of This Title:
Digital Audiobook (11/3/2014)
Paperback (3/31/2015)
Compact Disc (11/4/2014)
MP3 CD (11/4/2014)
Compact Disc (11/4/2014)
Description
Updike is Adam Begley's masterful, much-anticipated biography of one of the most celebrated figures in American literature: Pulitzer Prize-winning author John Updike—a candid, intimate, and richly detailed look at his life and work.
In this magisterial biography, Adam Begley offers an illuminating portrait of John Updike, the acclaimed novelist, poet, short-story writer, and critic who saw himself as a literary spy in small-town and suburban America, who dedicated himself to the task of transcribing "middleness with all its grits, bumps and anonymities."
Updike explores the stages of the writer's pilgrim's progress: his beloved home turf of Berks County, Pennsylvania; his escape to Harvard; his brief, busy working life as the golden boy at The New Yorker; his family years in suburban Ipswich, Massachusetts; his extensive travel abroad; and his retreat to another Massachusetts town, Beverly Farms, where he remained until his death in 2009. Drawing from in-depth research as well as interviews with the writer's colleagues, friends, and family, Begley explores how Updike's fiction was shaped by his tumultuous personal life—including his enduring religious faith, his two marriages, and his first-hand experience of the "adulterous society" he was credited with exposing in the bestselling Couples.
With a sharp critical sensibility that lends depth and originality to his analysis, Begley probes Updike's best-loved works—from Pigeon Feathers to The Witches of Eastwick to the Rabbit tetralogy—and reveals a surprising and deeply complex character fraught with contradictions: a kind man with a vicious wit, a gregarious charmer who was ruthlessly competitive, a private person compelled to spill his secrets on the printed page. Updike offers an admiring yet balanced look at this national treasure, a master whose writing continues to resonate like no one else's.
Praise For Updike…
"A brilliant biography. . . . A delightfully rich book. . . . Highly readable. . . . The joys of Updike are based on discovering the autobiographical content of the tens of thousands of details that populate Updike's vast fictional universe." — Orhan Pamuk, The New York Times Book Review
"A superb achievement. . . . A book that, in its evocation of a brilliant but flawed personality, conjured via the skillful deployment of just-so details and a subtle hint of haunting existential grace, is in some ways as rewarding as Updike's best fiction." — Scott Stossel, The Boston Globe
"A beautifully written, richly detailed, and warmly sympathetic portrait of a great American writer." — Joyce Carol Oates
"Adam Begley's Updike is a model of what a literary biography should be: rich with penetrating insights not only about the life but also about the work. It will enthrall long-time Updike fans and help create generations of new ones." — Francine Prose
"Adam Begley's brilliant evocation of our own literary giant should be required reading for Americans; Updike illumines a particular era with John Updike's own ferocity and tenderness." — Jayne Anne Phillips
"Adam Begley's careful and considerate biography illuminates all the right things about Updike, whose dramas were lived both privately and publicly. It's a social history in which one man's heart, mind, and talent came to resonate for an entire society." — Ann Beattie
"'You have to give it magic,' John Updike explained of the stuff on the page; Adam Begley has done him proud, offering up Updike the man and Updike the writer in an exuberant, stunningly choreographed pas de deux." — Stacy Schiff
"Adam Begley tells the story of John Updike's life in art with brilliant tautness, as if he were writing a novel. He has rendered a portrait of the writer that shimmers with truth. This is literary biography at its highest level of excellence." — Janet Malcolm
"On the evidence of this judicious new biography, John Updike recorded in his fiction the most painful events in his life. . . . Begley demonstrates that Updike was more complicated than the twinkly public persona he created for himself." — Robert Wilson, The American Scholar
"Begley seamlessly weaves biography and critical analysis throughout his book, much as Updike himself blurred autobiography and fiction. Updike is a monumental treatment of a towering American writer." — The New York Observer
"As a biographer, Begley has a great many strengths -- concision, eloquence, an eagle eye -- and few of the usual shortcomings." — The Wall Street Journal
"Not only has Begley written a convincing interpretative biography, one characterized by suavity, wit, and independent judgment throughout, he has also produced a major work of Updike criticism. . . . Displaying total command of his material, Begley does his author proud." — Michael Dirda, The Washington Post
"Honorable. . . . Updike's exquisite words flowed, some felt, too freely and too amiably. . . . It's one of the achievements of Begley's book that it so acutely demonstrates how it all, in fact, didn't come so easily. . . . Begley is a gifted literary critic." — Dwight Garner, The New York Times
"The two-time Pulitzer winner couldn't have hoped for a biography more respectful -- or more critically attuned to his work -- than this one. Updike is gracefully written. . . . It contains revealing tales about Updike's work habits and publishing relationships that haven't been told before." — The San Francisco Chronicle
"An exemplary biography, oceanically researched, full of insights. . . . Begley is even-handed in his judgments and is a fine writer himself, his supple and cadenced prose sometimes matching his subject's." — The Sunday Times (London)
"An insightful, compelling, discreet, and admirable biography. . . . In synthesizing a substantial amount of material through clear, intelligent prose, Begley does what I never thought possible: he writes a biography I wished were longer." — The Christian Science Monitor
"This is a generous tribute to an amusing and brilliant man. . . . Begley is a perceptive reader, illuminating the different alter egos who populate Updike's fiction." — The Financial Times
"Though Adam Begley's biography is the first on the writer, it's hard to see how it will be bettered. Thoroughly researched, written with intelligence, sympathy, and grace, it is a model of first-rate literary biography. . . . A complex, intimate portrait." — Dan Cryer, Newsday
"Adam Begley has written an exemplary biography. . . . Respectful and sympathetic. . . . Any Updike fan will find it rewarding, as indeed will anyone who has enjoyed his work and any reader with an interest in modern American letters." — The Guardian
"Begley is so much in command of his subject. . . . He has located the man behind the giant oeuvre." — Sam Tanenhaus, Prospect
"A master storyteller comes to affably charming life in Begley's incisive biography. . . . Begley finds the truest reflection of the man in his work." — Vogue
"Fabulous. . . . Updike fans will enjoy Begley's marvelous biography, which is as much about the man as the writer." — Entertainment Weekly
"Terrific. . . . Begley's book blends biography with a brilliant close read of Updike's work. . . . As insightful on the work as the life, it is a complicated and fascinating portrait of one of the great literary lives of the second half of the 20th century." — Salon
"A hefty, thorough biography. . . . Begley does an impressive, conscientious job of marshaling evidence of Updike's many contradictions." — Jonathan Dee, Harper's
"An insightful and meticulously researched book. . . . A sustained, very fine work of literary criticism." — The New Republic
"A highly literate illumination of a supremely literate human being." — Louis Menand, The New Yorker
"Begley is quiet, careful, self-effacing, and steady. . . . He amply shows us the strangeness and contradictions under the affable mask." — Hermione Lee, The New York Review of Books
"A sympathetic and thorough biography. . . . The more I read about Updike, the more I wanted to go back and read Updike. — USA Today
"A wonderful, wise biography, judicious and intimately revealing, and does full justice to the highly complex individual that was Updike." — William Boyd, Daily Mail's Best Books of the Year
Harper, 9780061896453, 576pp.
Publication Date: April 8, 2014
About the Author
Adam Begley was the books editor for the New York Observer from 1996 to 2009. He has been a Guggenheim fellow and a fellow at the Leon Levy Center for Biography at the CUNY Graduate Center. His writing has appeared in the New York Times, Los Angeles Times, Chicago Tribune, New York Times Magazine, Financial Times, Guardian, London Review of Books, Times Literary Supplement, and many other publications. He lives in England.
Coverage from NPR
or
Not Currently Available for Direct Purchase