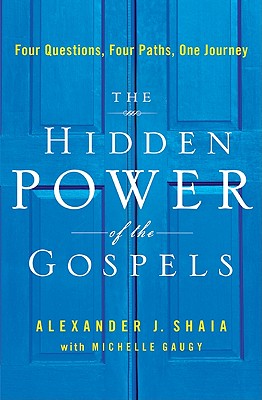 The Hidden Power of the Gospels (Hardcover)
Four Questions, Four Paths, One Journey
HarperOne, 9780061898013, 367pp.
Publication Date: February 2, 2010
Other Editions of This Title:
Paperback (2/1/2011)
* Individual store prices may vary.
Description
Christianity is in crisis. Increasing numbers of people are "opting out." Why? Have recent discoveries in archaeology uprooted our faith in the Bible? Do the gospels no longer serve our modern, complicated lives? In The Hidden Power of the Gospels, Dr. Alexander Shaia moves beyond the typical approach to reveal an undiscovered truth that's been dormant for over one thousand years.
In the tradition of such writers as Thomas Moore and Don Miguel Ruiz, Shaia reveals how the recurring cycles of change, loss, enlightenment, and maturation are illuminated by the Bible's four gospels. Combining ancient Christian traditions, anthropology, and modern psychology, he reveals what has been in front of our eyes for two thousand years: that each of the gospels is centered on a different core metaphor and each focuses on a vital spiritual question.
Matthew begins with the question "How do we face change?" Mark poses the hard question of "How do we move through suffering?" John stirs and elevates the soul as he asks, "How do we receive joy?" And Luke moves us forward on the practical path, as he inquires, "How do we mature in service?" Shaia weaves these questions together in what he calls the quadratos journey, a recurring fourfold cycle that lives on as a constant companion throughout our lives.
Shaia unravels the divine inspiration of this mysterious sequence and links its ancient truths to universal, modern understandings. By using this lens, the gospels become practical guides for creating faith-filled lives that are relevant and useful in a time that is much more complex than village life millennia ago. In the sequence Shaia discloses, the gospels become the map for our never-ending spiritual journey.
Praise For The Hidden Power of the Gospels: Four Questions, Four Paths, One Journey…
"Alexander Shaia reclaims the Christian gospels as religious practices shared across spiritual traditions—minds abiding in peace, guided by love, mandated to serve. This book is a jewel."
-Sylvia Boorstein, Ph.D., bestselling author of Happiness Is an Inside Job

"It's a rare treat to have someone show you a previously undiscovered layer of meaning and import. Alexander Shaia has given us a tremendous resource."
-Brian McLaren, author of A New Kind of Christianity

"This work on the gospels is breathtakingly liberating. Dr. Shaia is redirecting the last hundred-and-fifty years of gospel scholarship."
-Alan Jones, author of Soul Making

"This is a wonderfully wise and profound vision of the Gospels, illuminating their inner meaning and our inner lives with them."
-Jack Kornfield, co-founder of Spirit Rock Meditation Center and bestselling author of A Path with Heart

"An inspirational book, of value to anyone who turns to the gospels for insight and guidance. Readers will find themselves engaged, encouraged, and energized for their life-long Christian pilgrimage."
-Robin Griffith-Jones, author of Beloved Disciple

"The liveliest presentation of the Gospels that I have seen in a very long time."
-Phyllis Tickle, author of The Great Emergence

"Eye-opening, intelligent, and practical, The Hidden Power will transform the way you read scripture and reveal a path for a vibrant Christian way of life."
-Diana Butler Bass, author of Christianity for the Rest of Us

"This book will enrich your prayer life. Every word is delicious."
-Mpho Tutu, coauthor with Desmond Tutu of Made for Goodness

"Trust me on this. . . . Shaia isn't luring us into some esoteric corner. He's leading us out of the stress and confusion most of us face in daily life—toward joy and stronger communities."
-David Crumm, Read the Spirit

"[This] book is an important contribution that truly highlights the wisdom contained in the Bible and gives us teachings that are relevant to our lives no matter what faith we espouse. My prayer is that it… is recognized for the gift it is."
-Justine Willis Toms, Co-founder of New Dimensions Radio

"The Hidden Power of the Gospels... is a formidable work which can bring new life to the teaching and preaching ministries of Christian churches and added zest to the burgeoning interspirituality movement."
-Spirituality and Practice

"In his new book, The Hidden Power of the Gospels, Dr. Shaia moves beyond the surface of the gospel accounts and blends his journey of 'quadratos' into the narrative…. A provocative, pleasant piece of work."
-SeattlePI.com

"The book is loaded with insight, and it is one of those texts that will appeal to any with an interest in psychology, counseling, and spiritual direction."
-NextReformation.com