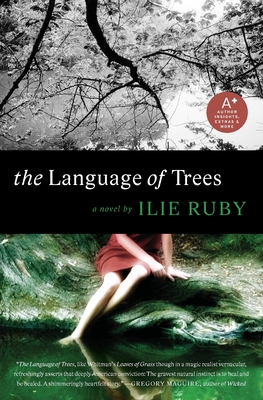 The Language of Trees (Paperback)
William Morrow & Company, 9780061898648, 339pp.
Publication Date: July 20, 2010
Description
"The Language of Trees, like Whitman's Leaves of Grass though in a magic realist vernacular, refreshingly asserts that deeply American conviction: the gravest natural instinct is to heal and be healed. A shimmeringly heartfelt story."--Gregory Maguire, New York Times bestselling author of Wicked "Crafted with suspenseful pacing and delicate imagery, Ilie Ruby's book combines the qualities of an irresistible ghost story with a healing tale of redemption."
--Elizabeth Rosner, author of The Speed of Light A truly stunning literary debut, Ilie Ruby's The Language of Trees is a fiercely beautiful novel that explores the relationships that define us, the events that shape us, and the places we will go to in order to save ourselves and those we love most. Fans of Jennifer McMahon, Alice Hoffman, and Niall Williams will be captivated by this haunting tale of homecoming and secrets that sparkles with exceptional writing and a gothic edge.
Praise For The Language of Trees…
"The Language of Trees, like Whitman's Leaves of Grass though in a magic realist vernacular, refreshingly asserts that deeply American conviction: the gravest natural instinct is to heal and be healed. A shimmeringly heart-felt story."
-Gregory Maguire, author of Wicked

"Painter and short story writer Ruby debuts with a haunting, lyrical novel of love, loss, and second chances set in upstate New York and greatly informed by the Seneca Indians, whose lore imbues the book with spirituality...a worthwhile story filled with mysticism and symbolism."
-Publishers Weekly

"The Language of Trees is a haunting novel about the enduring power of love. Crafted with suspenseful pacing and delicate imagery, Ilie Ruby's book combines the qualities of an irresistible ghost story with a healing tale of redemption. It's a vivid and compelling read."
-Elizabeth Rosner, author of Blue Nude and The Speed of Light

"Ilie Ruby's haunting story seems to spring fully formed from the mystical setting she so beautifully describes. The Language of Trees will make you believe that spirits live on, that hands can heal, and that if you open your heart wide enough, the world is full of second chances."
-Diane Chamberlain, author of Summer's Child

"Eloquent and compelling, this book is a luminous gem in the hypnotic waters of seduction. Ilie Ruby's prose has at once a deeply lush and evocative serenity, poetically imagistic and rhythmically mastered..."
-James Ragan, author of Too Long a Solitude

"Haunting…a literary, emotionally intense ghost story about family secrets and regrets."
-USA Today

"Rarely do debut novels cover the complicated emotional terrain of The Language of Trees. This is no simple right-of-passage story but rather an eloquently written journey that explores our strengths and vulnerabilities, our love of those who most need us, and whom we need most.
-James Brown, author of The Los Angeles Diaries

"[Ilie Ruby's The Language of Trees] may just be my favorite book of the summer!"
-Katrina Kittle

"Ilie Ruby's THE LANGUAGE OF TREES is as atmospheric as the lake where it takes place--a mesmirizing meditation on the spirit, both of this world and the one beyond."
-Jenna Blum, New York Times bestselling author of Those Who Save Us
Advertisement