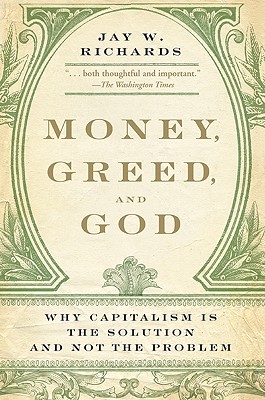 Money, Greed, and God: Why Capitalism Is the Solution and Not the Problem (Paperback)
Why Capitalism Is the Solution and Not the Problem
HarperOne, 9780061900570, 255pp.
Publication Date: May 4, 2010
Description
The good news about capitalism
Jay Richards presents a new approach to capitalism, revealing how it's fully consistent with Jesus's teachings and the Christian tradition and our best bet for renewed economic vigor.
Money, Greed, and God exposes eight myths about capitalism including the notion that capitalism is based on greed and demonstrates that a good Christian can be a good capitalist.
Praise For Money, Greed, and God: Why Capitalism Is the Solution and Not the Problem…
"In Money, Greed, and God, Jay Richards has written the definitive case for capitalism, a crisply written and incisive discourse on wealth and poverty, money and morality for the 21st Century."
-George Gilder, co-founder of the Discovery Institute and author of Wealth and Poverty

"Jay Richards understands the objections to capitalism, and here explains why they do not convince him. The empirical findings revealed in Money, Greed, and God run against those objections."
-Michael Novak, Chair in Religion and Public Policy at the American Enterprise Institute

In Money, Greed, and God, Jay Richards shows us . . . a capitalism grounded in the truth about human beings as free, morally responsible, co-creators charged with dominion and stewardship of the earth by the loving God to whom we are all ultimately accountable.
-Rev. Robert A. Sirico, President of the Acton Institute

"Money, Greed, and God is both thoughtful and important."
-Washington Times
Advertisement