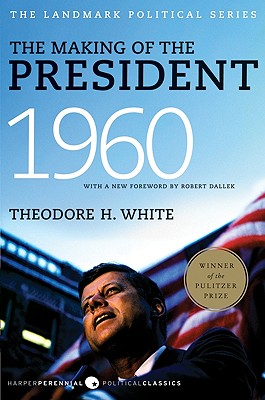 The Making of the President 1960 (Paperback)
Harper Perennial, 9780061900600, 432pp.
Publication Date: November 3, 2009
Other Editions of This Title:
MP3 CD (1/7/2020)
Compact Disc (1/7/2020)
Hardcover (2/1/1999)
* Individual store prices may vary.
Description
A Harper Perennial Political Classic, The Making of the President 1960 is the groundbreaking national bestseller and Pulitzer Prize-winning account of the 1960 presidential campaign and the election of John F. Kennedy.
The Making of the President: 1960 revolutionized the way modern presidential campaigns are reported. Reporting from within the campaign for the first time on record, White's extensive research and access to all parties involved set the bar for campaign coverage and remains unparalleled. White conveyed, in magnificent detail and with exquisite pacing, the high-stakes drama; he painted the unforgettable, even mythic, story of JFK versus Nixon; and most of all, he imbued the nation's presidential election process with a grandeur that later political writers have rarely matched.
About the Author
Theodore H. White (1915–1986) was an American political journalist, historian,and novelist, best known for the Making of the President series: his accounts of the1960, 1964, 1968, and 1972 presidential elections, all of which are being reissued withnew forewords by Harper Perennial Political Classics. His other books include ThunderOut of China, America in Search of Itself, and In Search of History: A Personal Adventure.
Praise For The Making of the President 1960…
"A notable achievement. White has written a fascinating story of a fascinating campaign."
— Time magazine

"No book that I know of has caught the heartbeat of a campaign as strikingly as Theodore White has done in The Making of the President 1960."
— New York Times

"A masterpiece . . . full of deep insights into political power in America and how our democracy works in choosing the President. It gripped me from beginning to end as very few books have."
— William L. Shirer

"More than a fascinating account of how one man succeeded in reaching the White House, while other failed; it is a graduate lesson in the rough, relentless, subtle and devious workings of American politics. It is a magnificent job of reporting, but it is also history."
— Saturday Review

"[White] revolutionized the art of political reporting."
— William F. Buckley