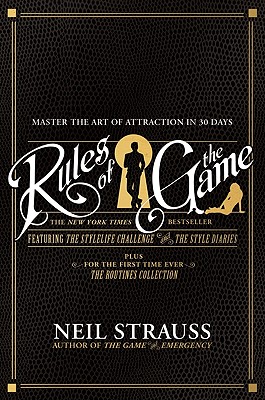 Rules of the Game (Paperback)
It Books, 9780061911699, 384pp.
Publication Date: October 27, 2009
* Individual store prices may vary.
Description
Neil Strauss, New York Times bestselling author of The Game, now brings readers a portable, omnibus paperback edition of his box set Rules of the Game—a unique how-to guide for pickup artists (The StyleLife Challenge) and a volume of Game stories (The Style Diaries)—with new bonus material. The Stylelife Challenge is the manual Strauss, author of Emergency, thought he'd never write: the ultimate guide to landing the woman of your dreams, while The Style Diaries takes readers further into the seduction underworld than ever before, and delves where The Game never dared to tread: into the even more complicated rules of relationships.
About the Author
Neil Strauss is the author of the New York Times bestsellers The Game, Rules of the Game, Emergency, and Everyone Loves You When You're Dead. He is also the co-author of three other New York Times bestsellers - Jenna Jameson's How to Make Love Like a Porn Star, Mötley Crüe's The Dirt and Marilyn Manson's The Long Hard Road out of Hell. A writer for Rolling Stone, Strauss lives in Los Angeles.