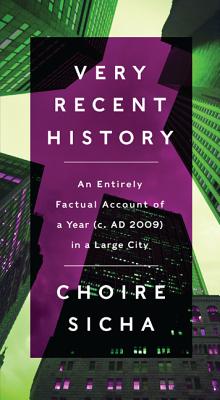 Very Recent History
An Entirely Factual Account of a Year (c. AD 2009) in a Large City
Hardcover

* Individual store prices may vary.
Other Editions of This Title:
Paperback (8/5/2014)
Description
Very Recent History by Choire Sicha is an idiosyncratic and elegant narrative that follows a handful of young men in New York City as they navigate the ruins of money and power—in search of love and connection.
After the Wall Street crash of 2008, the richest man in town is the mayor. Billionaires shed apartments like last season's fashions, even as the country's economy turns inside out. The young and careless go on as they always have, getting laid and getting laid off, falling in and out of love, and trying to navigate the strange world they traffic in:  the Internet, complex financial markets, credit cards, pop stars, micro-plane cheese graters, and sex apps.
A true-life fable of money, sex, and politics, Choire Sicha's Very Recent History: An Entirely Factual Account of a Year (c. AD 2009) in a Large City turns our focus to a year in the life of a great city.
Praise For Very Recent History: An Entirely Factual Account of a Year (c. AD 2009) in a Large City…
"The only book our ancestors will need…VERY RECENT HISTORY would start a revolution if we knew better."
— Rosecrans Baldwin, author of Paris, I Love You But You're Bringing Me Down

"Sicha's prose, sweet and alienating by turns, transforms a city I know well and a year I lived through into something odd and wonderful."
— Clay Shirky

"Sicha vivisects the student-loan crisis, finance capital, and other plagues in the arch tone of one explaining it all to a naïf from the future—a rhetorical device that trains a floodlight on the great hypocrisies of our time. "
— Elle

"Very Recent History is a true story of the quiet desperation that comes from a world full of meanness—and hype. It's also an intensely political book, quietly outraged…Very Recent History takes on all the right things."
— Nancy Jo Sales, author of The Bling Ring

"This book will be especially useful for the generation it describes, who are so caught up in an infinite now that they risk forgetting, and repeating, slightly less recent history."
— Emily Gould, author of And the Heart Says Whatever

"Sicha's position as a journalist is so impressively embedded it could be described as vascular…A Vonnegut-esque manual of the era for future aliens interested in life in that lost empire known as 21st-Century America."
— Interview

"[The] most hilarious satire of the summer…a brave new amalgam of reportage and story…takes on the hyper-real gloss of an E! True Holywood Story, narrated as though by some earnest alien sociologist from the future."
— GQ

"An exemplary entry in—and in many ways a blistering critique of—a style of writing I think of as post-fiction. This writing represents a chiasmus between the real and the made-up, blurring the two into nonrecognition."
— Michael H. Miller, The New York Observer

"Perhaps among a next wave of books about gay folks as full American citizens that doesn't bother walking them through schematic journeys meant to stand in for the American Gay Experience."
— Salon

"Sicha's detached prose…makes that year feel more absurd than any of us might remember…a fresh look at a seemingly distant world that is actually our own. GRADE: A- "
— Entertainment Weekly, "Must List"

"Has the same time-capsule charm as a book many of us read and were fascinated by in elementary school, Motel of the Mysteries , in which the world was destroyed and future generations were left to wonder at objects like a toilet."
— Time

"Choire Sicha's writing charms and delights, but beneath the biting wit and cynicism [he] dares to explore the darker underbelly of human avarice and capital, a book that's equal parts blindingly terrifying and smartly humorous, and one of the most clever reads I've encountered in a long time."
— NPR

"I liked the part where everyone is discussing Truman Capote's article about hanging out with Montgomery Clift."
— Mother Jones

"You look up from the book to find that Sicha took the opportunity to screw a new pair of eyes into your sockets. With his distance and his wit, he's showed you the ridiculousness, and the impossibly high value, of everything you take for granted."
— The Stranger

"Sicha's uncanny, absurdist reduction is more than just a fun-to-read ruse: "Very Recent History" shames you, the reader, for losing sight, on a day-to-day basis, of just who is controlling your world… [VRH] is exultant in a way no mere clever premise can be."
— Page-Turner, New Yorker.com
Harper, 9780061914300, 256pp.
Publication Date: August 6, 2013
About the Author
Choire Sicha is the coproprietor of The Awl. A two-time editor of Gawker, he has written for the New York Times and the Los Angeles Times as well as a suspiciously large number of magazines exactly one time. He lives in Brooklyn.
or
Not Currently Available for Direct Purchase