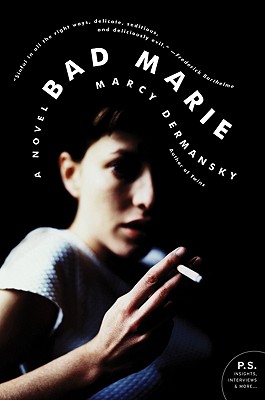 Bad Marie
A Novel
Paperback

* Individual store prices may vary.
Description
"Reading Marcy Dermansky's Bad Marie is like spending a rainy afternoon in a smaller, older movie theater watching a charming French movie with a woman (or a man) you've just met on the street and already like far too much. It's sinful in all the right ways, delicate, seditious, and deliciously evil." — Frederick Barthelme
"Dermansky excels at depicting extreme emotional states and how we rationalize them." —Village Voice
From the critically-acclaimed author of Twins, Marcy Dermansky, comes a highly original novel of Manhattan, Paris, and Mexico; of love and motherhood; and of life on the lam. Fans of Heather O'Neill (Lullabies for Little Criminals) and A.M. Homes (Music for Torching) will revel in the wicked delights of Bad Marie.
Praise For Bad Marie: A Novel…
"Marcy Dermansky's slim picaresque follows the misadventures of a nanny who absconds to Paris with her charge and the toddler's dashing father. Marie is the amoral engineer of multiple train wrecks, but in Dermansky's hands she's somehow irresistible." — Time magazine
"Dermansky does proud the long, often sketchy, sometimes illustrious tradition of transgressive fiction with BAD MARIE . . . Her Marie is no cry-baby Anna Karenina fated to a star-crossed love for which she pays with her life." — Elle
"Not enough women write novels like this one. Dermansky is funny and fearless. I like Marie so much because she seems to care so little whether I like her or not. That's a working definition of badass. Bad Marie is one." — Esquire
"[Marie is] an antiheroine for our time . . . A page-turning melodrama told with chilled cosmopolitan irony, the moral puzzles at the heart of BAD MARIE linger after the delicious meringue of the book has been consumed. Cool trick, Ms. Dermansky." — Newsday
"Deliciously wicked." — Slate
"I didn't want to finish this book any time soon, didn't want to emerge from its dark and wondrous world. My God, what a writer -- absolutely unpredictable, wild with intellect, spilling with charm and sadness and humanity. Marie, the main character here, is literary gold, worthy of Flaubert." — Mary Robison
"Marcy Dermansky's BAD MARIE is so very very bad that I enjoyed every word. A tour de force in mounting suspense as its witless narrator and the baby she's stolen careen from one all-too-probable disaster to the next. Delicious." — Terese Svoboda, author of Cannibal and Pirate Talk or Mermelade
"By positing a character who's indulged in all of the deadly sins, Dermansky challenges the reader to finally and forever denounce her character Marie. The fact that this reader can't is testament to the book's power and smarts. A naughty pleasure, a philosophical romp, heady hedonism: what could be better?" — Antonya Nelson, author of Nothing Right
"[BAD MARIE is] sinful in all the right ways, delicate, seditious, and deliciously evil." — Frederick Barthelme
"Marcy Dermansky makes it easy to love Marie, a husband-stealing, baby-snatching, underachieving ex-con . . . Fast-paced and unsentimental, BAD MARIE blazes with life." — Barb Johnson, author of More of This World or Maybe Another
"BAD MARIE is impossible to turn away from. It is as empathic as it is disturbing, as delicate as it is savage. Sly, honest, and extraordinary, this gem of a book should come with a warning: you'll have to remind yourself to breathe." — Tish Cohen, author of The Truth About Delilah Blue
"Marcy Dermansky's BAD MARIE is all about the tricksy margins of human experience, stolen moments and the people who steal them." — Ben Greenman, author of What He's Poised to Do and Please Step Back
"[I]rresistible. In swift, vivid prose Marcy Dermansky has created a wonderful portrait of a woman who lives right at the edge of acceptable behaviour. I couldn't wait to see what Marie would do next, and I couldn't stop myself from cheering her on." — Margot Livesey, author of The House on Fortune Street and Eva Moves The Furniture
"BAD MARIE unfolds in precise, gripping measure. But as the story keeps taking a turn for the worse, ratcheting up the tension, it is buoyed by the lovely relationship at its heart." — Mark Sarvas, author of Harry, Revised
"A wickedly nihilistic and suspenseful tale of erotic mayhem . . . .[E]dgy, speedy, stylish, unpredictable, funny, and heart-stopping." — Booklist
"Marie, the protagonist of Marcy Dermansky's witty, disturbing new novel, is almost completely unlikable, and yet stands out as one of the more interesting characters in recent fiction....Before you know it, the book becomes a skillfully paced page-turner...weirdly hilarious...nothing if not captivating." — Creative Loafing
Harper Perennial, 9780061914713, 240pp.
Publication Date: June 22, 2010
About the Author
Marcy Dermansky is a MacDowell Fellow and the winner of the 2002 Smallmouth Press Andre Dubus Novella Award and the 1999 Story magazine's Carson McCullers short story prize. Her stories have been published in numerous literary journals, including McSweeney's, Alaska Quarterly Review, and Indiana Review. Dermansky is a film critic for About.com and lives in Astoria, New York.