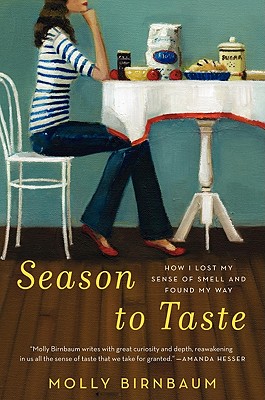 Season to Taste (Hardcover)
How I Lost My Sense of Smell and Found My Way
Ecco, 9780061915314, 320pp.
Publication Date: June 21, 2011
Other Editions of This Title:
Paperback (5/29/2012)
Paperback (5/1/2012)
* Individual store prices may vary.
Description
"A rich, engrossing, and deeply intelligent story….This is a book I won't soon forget."
—Molly Wizenberg, bestselling author of A Homemade Life
"Fresh, smart, and consistently surprising. If this beautifully written book were a smell, it would be a crisp green apple."
—Claire Dederer, bestselling author of Poser
Season to Taste is an aspiring chef's moving account of finding her way—in the kitchen and beyond—after a tragic accident destroys her sense of smell. Molly Birnbaum's remarkable story—written with the good cheer and great charm of popular food writers Laurie Colwin and Ruth Reichl—is destined to stand alongside Julie Powell's Julie and Julia as a classic tale of a cooking life. Season to Taste is sad, funny, joyous, and inspiring.

About the Author
Molly Birnbaum is the recipient of the Pulitzer Traveling Fellowship in Arts and Culture from Columbia Journalism School. Her work has appeared in the New York Times, O, The Oprah Magazine, and ARTnews magazine, and she writes the popular food blog My Madeline.
Praise For Season to Taste: How I Lost My Sense of Smell and Found My Way…
"After reading Birnbaum's smart, lovely book, readers will be reminded to savor their next meal, each fragrant bite."
— Boston Globe

"Tantalizing. . . . A pilgrimage out of devastation, toward reclaiming the dream of being a chef. . . . Where [Birnbaum] ends up will surprise you, much as it did her."
— Washington Post

"Rich and insightful. . . . A veritable feast for the reader."
— Charlotte Observer

"Powerfully explores the science of smell and its ties to emotion, love and even memory. . . . A truly mouthwatering read."
— BookPage

"Moving and informative."
— Publishers Weekly

"Fascinating and vivid. . . . Packed with information and a great read to boot. I was smitten."
— Library Journal

"A culinary-minded journalist . . . movingly depicts the nearly ineffable plight of the anosmic . . . alongside passages of sweeping journalistic discovery of all things olfactory. A brave, unflagging memoir."
— Kirkus Reviews

"A Summer Hot Read."
— New York Post

"A fascinating, illuminating and heartwarming read and a revelation of how aroma is woven, in intricate and complex patterns, through the tapestry of our lives."
— Frangrance Forum

"Molly Birnbaum writes with great curiosity and depth, reawakening in us all the sense of taste that we take for granted."
— Amanda Hesser, author of The Essential New York Times Cookbook

"Molly Birnbaum's fascinating book takes her--and us--deep inside the mysterious world of scent. Her writing about this unseen force is fresh, smart, and consistently surprising. If this beautifully written book were a smell, it would be a crisp green apple."
— Claire Dederer, bestselling author of Poser

"A wonderful book about life's unexpected turns, about love and its complexities, and about the ineffably mysterious human brain. I couldn't stop telling people about it, while I was reading it. It will make you see your nose, your life, and your most important decisions in a whole new way."
— Maile Meloy, bestselling author of Both Ways Is the Only Way I Want It

"Molly Birnbaum's fascinating journey, told with charm and compassion, is ultimately a story of triumph. A book for food lovers, sensualists, and all of us in search of our true heart's desire."
— Kim Sunée, bestselling author of Trail of Crumbs
or
Not Currently Available for Direct Purchase