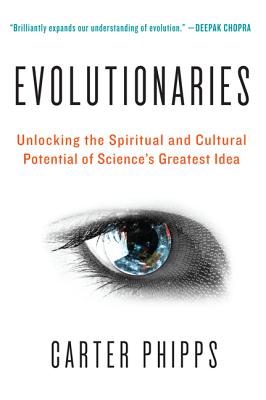 Evolutionaries (Paperback)
Unlocking the Spiritual and Cultural Potential of Science's Greatest Idea
Harper Perennial, 9780061916137, 416pp.
Publication Date: June 26, 2012
Other Editions of This Title:
Paperback, Spanish (3/1/2015)
* Individual store prices may vary.
Description
"Carter Phipps brilliantly expands our understanding of evolution by showing us that a new science is emerging—one that will holistically integrate our understanding of consciousness, cosmology, and evolution." —Deepak Chopra
Blending cutting-edge ideas with incisive spiritual insights, Evolutionaries is the first popular presentation of an emerging school of thought called "evolutionary spirituality." Carter Phipps, the former executive editor of EnlightenNext magazine, asserts that evolution is not only a scientific but also a spiritual idea in a book whose message has the power to bring new meaning and purpose to life as we know it. Readers will be fascinated and enlightened by Evolutionaries, a book which Deepak Chopra, the world-renowned author of The Seven Spiritual Laws of Superheroes, Jesus, and Buddha, says "is going to help create a worldview that will influence our vision of the future direction of evolution and also our role in consciously participating in it."
About the Author
Carter Phipps is a writer and speaker and the former executive editor of Enlighten-Next magazine. He lives in Lenox, Massachusetts.
Praise For Evolutionaries: Unlocking the Spiritual and Cultural Potential of Science's Greatest Idea…
"This beautifully written book is not only a splendid survey of evolutionary thought and its spiritual implications. It is also a significant contribution to the increasingly important conversation between the natural sciences and our spiritual traditions. Enthusiastically recommended."
— JOHN F. HAUGHT, Senior Fellow at Georgetown University's Woodstock Theological Center and Former Chair and Professor of the Department of Theology at Georgetown University

"No one has their head and heart around the full range of evolutionary worldviews like Carter Phipps."
— Reverend MICHAEL DOWD, author of Thank God for Evolution

"A profound and profoundly important new work. With clarity and deep understanding, Carter Phipps walks us through the great evolutionary pioneers and their ideas in this extraordinary philosophy, making the book absolutely indispensable for lay and professional alike. The very highest recommendation!"
— KEN WILBER, author of A Brief History of Everything and The Integral Vision

"We live in one of those rare historical moments when the deepest metaphysical questions are being turned over and examined as we search for a new orientation for the next millennium. It would be hard to find a better guide into this fascinating conversation than Carter Phipps's Evolutionaries."
— BRIAN SWIMME, Ph.D, Director of the Center for the Story of the Universe and Professor at the California Institute of Integral Studies

"Brilliantly expands our understanding of evolution. Evolutionaries is going to help create a worldview that will influence our understanding of the future direction of evolution and also our role in consciously participating in it."
— DEEPAK CHOPRA

"Phipps offers a challenging reexamination of the connection between the 'evolutionary dynamics of the universe and the very being of the divine.' ... Thoughtful and provocative."
— Kirkus Reviews

"A masterful survey. ... Incorporates science and faith by broadening the definition and scope of what evolution is understood to be. ... Phipps's writing projects a palpable sense of positivity and excitement for what is to come."
— Publishers Weekly

"Essential reading for anyone who cares about humanity's future and our role in creating a better one. Evolutionaries, is a brilliant, accessibly written, and eye-opening book"
— BARBARA MARX HUBBARD

"Evolutionaries is a tour-de-force where science, poetic prose, philosophical thinking, and authentic spiritual depth come together to deliver a powerful message of hope, optimism, and inspiration."
— ANDREW COHEN, Author of Evolutionary Enlightenment: A New Path to Spiritual Awakening

"A rare book, equally delightful and deep, Phipps explores how our growing knowledge about the evolutionary process catalyzes nothing less than a revolutionary understanding of our selves."
— ELIZABETH DEBOLD, Author of Mother Daughter Revolution: From Good Girls to Great Women