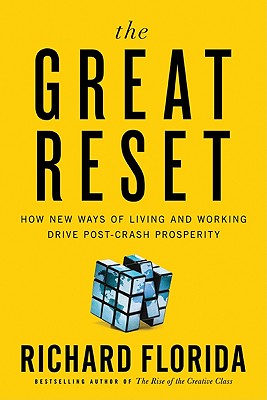 The Great Reset (Hardcover)
How New Ways of Living and Working Drive Post-Crash Prosperity
Harper, 9780061937194, 240pp.
Publication Date: April 27, 2010
Other Editions of This Title:
Digital Audiobook (4/26/2010)
Paperback (7/5/2011)
* Individual store prices may vary.
Description
From Richard Florida, author of the bestselling books The Rise of the Creative Class and Who's Your City?, comes a book that frames the economic meltdown of 2008–09 not as a crisis but as an opportunity to "reset." In doing so, he paints a fascinating picture of what our economy, society, and geography will look like—of how we will work and live—in the future.
About the Author
Author of the bestselling The Rise of the Creative Class and Who's Your City? Richard Florida is a regular columnist for The Atlantic. He has written for the New York Times, the Wall Street Journal, The Economist, and other publications. His multiple awards and accolades include the Harvard Business Review's Breakthrough Idea of the Year. He was named one of Esquire magazine's Best and Brightest (2005) and one of BusinessWeek's Voices of Innovation (2006). He lives in Toronto, Canada.
Praise For The Great Reset: How New Ways of Living and Working Drive Post-Crash Prosperity…
"In his usual lucid and compelling way, Florida argues that elected officials 'need to get over their love affair with big renewal projects' and steer money toward neighborhood ventures that improve people's lives."
— —Harvard Business Review

"Enticingly contrarian"
— —New York Post

"The Great Reset is an interesting, provocative and intelligent book. Florida is a witty and entertaining writer…It's well worth reading as a starting point for the future that's coming our way whether we're ready or not."
— —Miami Herald

"Richard Florida can be counted among the great prophets of our age. This incredibly interesting and well-written commentator on the socio-economics of the modern era has hit yet another grand slam, eclipsing his phenomenal 'Rise of the Creative Class.'"
— —Falls Church News-Press

"A breath of fresh air for anyone hoping that Americans (and economists) will learn from their past mistakes."
— —The Daily Beast

"A thoughtful, generally hopeful assessment of where we are now, how we got here—and how we can rebuild in the future."
— —BizEd magazine

[U]seful in inspiring thinking about the future of communities, of different types of jobs, and of the nature of work itself."
— —The Conference Board Review

"The Great Reset shows how new technology and the new geographies of living and working come together to drive recovery….must reading for anyone who wants to understand where we are now and where we are headed."
— —Chris Anderson, editor, Wired magazine

"This timely and thought-provoking book gives us important insights into the reshaping of America's economic and physical landscape."
— —Jeffrey D. Sachs, director of the Earth Institute, Columbia University
or
Not Currently Available for Direct Purchase