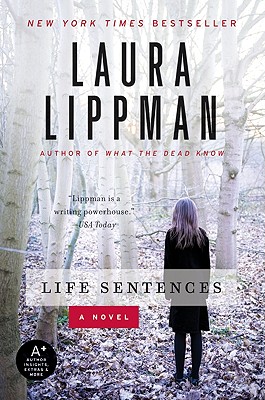 Life Sentences (Paperback)
A Novel
William Morrow Paperbacks, 9780061944888, 368pp.
Publication Date: March 2, 2010
Other Editions of This Title:
Digital Audiobook (3/9/2009)
Hardcover (3/10/2009)
CD-Audio (3/10/2009)
Paperback, Large Print (4/14/2009)
Paperback (3/1/2010)
* Individual store prices may vary.
Description
Author Cassandra Fallows believes she may have found the story that could become her next bestseller. When she was a girl growing up in a racially diverse middle-class neighborhood in Baltimore, a shy, quiet, unobtrusive child named Calliope Jenkins orbited Cassandra's circle of friends. Later Calliope would be accused of an unspeakable crime and would spend seven years in prison for refusing to speak about it. But by delving too deeply into Calliope's dark secrets, Cassandra may inadvertently unearth a few of her own—forcing her to reexamine the memories she holds most precious, as the stark light of truth illuminates a mother's pain, a father's betrayal . . . and what really transpired on a terrible day that devastated not only a family but an entire country.
About the Author
Since Laura Lippman's debut in 1997, she has been recognized as a distinctive voice in mystery fiction and named one of the "essential" crime writers of the last 100 years. Her books have won most of the major awards in her field and been translated into more than twenty languages. She lives in Baltimore and New Orleans with her family.
Praise For Life Sentences: A Novel…
Lippman has enriched literature as a whole.
— Chicago Sun-Times

Life Sentences is an original and intricately woven whydunnit, with characters as real as the Baltimore streets they live on.With Laura Lippman's unique storytelling and love of the genre, mystery awards will surely keep pouring in.
— Madison County Herald, Mississippi

"Lippman knows exactly what she's doing."
— Seattle Times

"Lippman, a Baltimore native, skillfully brings the racial and economic tensions of her middle-class neighborhood to life in this poignant page-turner."
— Daily News

"Theirs is a strong and vivid story, one that will intrigue many readers—especially, I suspect, women who find echoes of their own lives and friendships in this drama."
— Washington Post

"Succeeds brilliantly... Lippman is in total command of her material, weaving strands about race, family myths and self-deception into a mystery so taut the reader is nearly afraid to keep going—and simultaneously powerless to stop.
— People
Life Sentences suggests that stories belong to whomever tells them. Is that fair, unfair? Under what circumstances, if any, does a story—a life—belong only to the person who lived it?
Is Cassandra a likable person, or at least an ethical one? Does it matter if she's likable?
Was Cassandra's memoir, Her Father's Daughter, "true"?
What do you think happened to Callie's son? Does she tell Cassandra the truth, or the truth as she needs to believe it? Is there a difference?
Life Sentences has many references to myths and folk tales—stories of the ancient Greeks, but also Br'er Rabbit. What myths do the characters need in order to go about their day-to-day lives? Does Tisha have a myth that sustains her? Gloria Bustamante?
Cassandra is white, most of her childhood friends were African-American (as was her stepmother), and Gloria Bustamanate is Latina. But is race that central to the story of Life Sentences? In what ways?
Why does Lenore allow her husband's version of events to stand uncontested?
Is Cedric Fallows self-aware? Does he have any sense of the way he has affected his daughter?
What has Cassandra learned beyond the facts of her own life and Callie's life? Does she change over the course of this book? In what ways? Would the Cassandra we meet in that opening chapter make the same choices that Cassandra makes at the book's end?
What point is Tisha trying to make when she shows Cassandra a small inaccuracy in Her Father's Daughter?
On the last page of the novel, Callie passes a sign that Cassandra has also noticed: If you lived here, you would be home by now. Cassandra had wondered if the sign was a tautology, or at least mildly redundant. But Callie responds to the sign very differently. What does this tell us about Cassandra and Callie? Where is Callie—in her life—at the book's end? Has she found a home in the world? Has she at last made all the lies true?