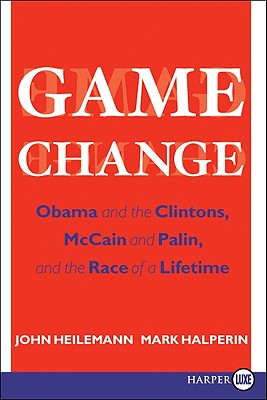 Game Change (Paperback)
Obama and the Clintons, McCain and Palin, and the Race of a Lifetime
HarperLuxe, 9780061945991, 720pp.
Publication Date: January 26, 2010
Other Editions of This Title:
Digital Audiobook (1/10/2010)
Paperback (10/26/2010)
Compact Disc (2/1/2010)
CD-Audio (10/26/2010)
Hardcover (1/11/2010)
* Individual store prices may vary.
Description
"It's one of the best books on politics of any kind I've read. For entertainment value, I put it up there with Catch 22." —The Financial Times
"It transports you to a parallel universe in which everything in the National Enquirer is true….More interesting is what we learn about the candidates themselves: their frailties, egos and almost super-human stamina." —The Financial Times
"I can't put down this book!" —Stephen Colbert
Game Change is the New York Times bestselling story of the 2008 presidential election, by John Heilemann and Mark Halperin, two of the best political reporters in the country. In the spirit of Richard Ben Cramer's What It Takes and Theodore H. White's The Making of the President 1960, this classic campaign trail book tells the defining story of a new era in American politics, going deeper behind the scenes of the Obama/Biden and McCain/Palin campaigns than any other account of the historic 2008 election.
About the Author
John Heilemann, national political correspondent and columnist for New York, is an award-winning journalist and the author of Pride Before the Fall: The Trials of Bill Gates and the End of the Microsoft Era.
Mark Halperin is editor-at-large and senior political analyst for Time. He is also senior political analyst for MSNBC, the author of The Undecided Voter's Guide to the Next President, and the co-author of The Way to Win: Taking the White House in 2008.
Praise For Game Change: Obama and the Clintons, McCain and Palin, and the Race of a Lifetime…
"A smoking new book. . . . The real revelation in Game Change: Campaigns turn our politicians into lunatics."
— Tina Brown, The Daily Beast

"Heilemann and Halperin have conducted hundreds of interviews to provide the inside story of the 2008 campaign. . . . It vividly shows how character flaws large and small caused Obama's opponents to self-destruct."
— Jacob Heilbrunn, The New York Times Book Review

"A thoroughly researched, well-paced and occasionally very amusing read. . . . The result is something that conveys the feel, or perhaps more accurately the smell, of one of recent history's most thrilling elections, and it does so better than any of the other books already on the market."
— The Economist

"I can't put down this book!"
— Stephen Colbert

"Compulsively readable. Once begun, you can't put it down. . . . Deeply and knowledgeably reported and presented with all the cool sophistication one would expect from two accomplished political reporters."
— Tim Rutten, The Los Angeles Times

"Riveting, definitive. . . . A great campaign book. . . . Halperin and Heilemann got insiders to cough up astonishing artifacts, including emails and recordings. . . . Game Change is really interesting, and puts you deep in the middle of it."
— Kurt Andersen, Very Short List

"The hottest book in the country."
— The Associated Press

"Everybody talked. Anybody that tells you they didn't is lying to you."
— A former top Clinton aide, to Politico's Ben Smith

"The best presidential political book since What it Takes by Richard Ben Cramer and Teddy White's books. These are the types of books that got me into politics."
— Joe Scarborough

"An explosive new book. . . . An absolute page turner."
— Soledad O'Brien on Larry King Live

"You've got to read Game Change. . . . I read each and every word. . . . Game Change is a great book."
— Don Imus

"A fascinating account. . . . Heilemann and Halperin serve up a spicy smorgasbord of observations, revelations, and allegations. . . . Game Change leaves the reader with a vivid, visceral sense of the campaign and a keen understanding of the paradoxes and contingencies of history."
— Michiko Kakutani, The New York Times

"Riveting. . . . Its pages brim with scandalous tidbits. . . . This is a must-read for anyone interested in the cutthroat backroom hows and whys of a presidential campaign. . . . And it doesn't hurt that Game Change reads more bodice-ripper than Beltway."
— Tina Jordan, Entertainment Weekly

"The authors of Game Change succeed in creating a plausible account of the emotional tumult of the 2008 campaign as it might have been—perhaps even was—experienced by the candidates, their spouses, and their staffs."
— Hendrik Hertzberg, The New Yorker

"An amazing piece of work. . . . One of the best books on politics of any kind I've read. For entertainment value, I put it up there with Catch 22. . . . An absolutely gripping read . . . they can write."
— Clive Crook, The Financial Times
or
Not Currently Available for Direct Purchase