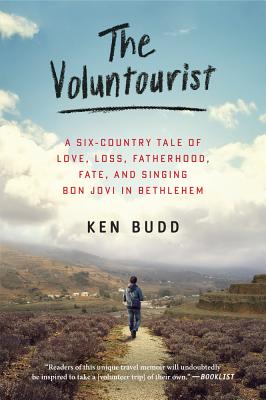 The Voluntourist
A Six-Country Tale of Love, Loss, Fatherhood, Fate, and Singing Bon Jovi in Bethlehem
Paperback

* Individual store prices may vary.
Description
Ken Budd's The Voluntourist is a remarkable memoir about losing your father, accepting your fate, and finding your destiny by volunteering around the world for numerous worthy causes: Hurricane Katrina disaster relief in New Orleans, helping special needs children in China, studying climate change in Ecuador, lending a hand—and a heart—at a Palestinian refugee camp in the Middle East, to name but a few. Ken's emotional journey is as inspiring and affecting as those chronicled in Little Princes and Three Cups of Tea. At once a true story of powerful family bonds, of sacrifice, of self-discovery, The Voluntourist is an all-too-human, real-life hero whom you will not soon forget.

Praise For The Voluntourist: A Six-Country Tale of Love, Loss, Fatherhood, Fate, and Singing Bon Jovi in Bethlehem…
"One of the best-written travel memoirs...this book spins a compelling yarn, linking six varied experiences into a cohesive narrative. Recommended for anyone who has been, or is interested in becoming, a 'voluntourist.' " — Library Journal
"Readers of this unique travel memoir will undoubtedly be inspired to take a voluntour of their own, and the author includes helpful tips on how to do just that." — Booklist
"A solid introduction to the world of volunteer tourism and a pleasant diversion for those who don't mind a wandering road." — Kirkus Reviews
"In his sincere and subtly written memoir, Budd gracefully--and often humorously--records how he changes 'emotionally, physically, spiritually' as he travels to work with 'people with real problems and different perspectives.'" — Publishers Weekly
"Heart-warming...tempered with exactly the right amount of acerbic wit...Unless you're comfortable laughing loudly in publis, you don't want to read this on your daily commute." — Vertge Magazine
"For those of you who haven't read Ken's book yet, get your copy NOW! It's really that good." — Jae-Ha Kim, syndicated travel columnist, Chicago Tribune
"Funny, touching, insightful and compelling." — The U.S. Center for Citizen Diplomacy
"Lively...Entertaining...The author's intelligence and autobiographical honesty engage the reader...Budd is a skilled writer with a good ear for dialogue." — PerceptiveTravel.com
William Morrow Paperbacks, 9780061946462, 464pp.
Publication Date: May 8, 2012
About the Author
Ken Budd has written for The Atlantic, The New York Times, The Washington Post Magazine, National Geographic Traveler, Travel + Leisure, Smithsonian, and many more. His work appears in the 2020 edition of The Best American Travel Writing. Ken lives in Burke, Virginia, near Washington, D.C.
or
Not Currently Available for Direct Purchase