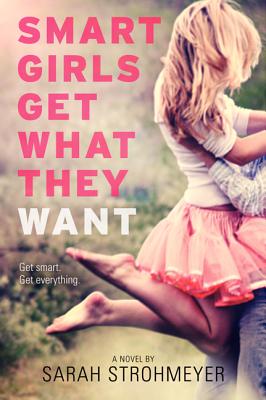 Smart Girls Get What They Want
Paperback

* Individual store prices may vary.
Description
Gigi, Bea, and Neerja are best friends and total overachievers. Even if they aren't the most popular girls in school, they aren't too worried. After all, real life will begin once they get to their Ivy League colleges. But when an unexpected event proves they're missing out on the full high-school experience, it's time to come out of the honors lounge and into the spotlight. The trio makes a pact: They will each take on their greatest challenge and totally rock it.
Gigi decides to run for student rep, but she'll have to get over her fear of public speaking—and go head-to-head with gorgeous California Will. Bea used to be one of the best skiers around, until she was derailed; it could be time for her to take the plunge again. And Neerja loves the drama club but has always stayed behind the scenes—until now.
These friends are determined to show the world that smart girls really can get what they want—but that might mean getting way more attention than they ever bargained for. . . .
Praise For Smart Girls Get What They Want…
"In her YA debut, adult author Strohmeyer (Kindred Spirits) excels at exploring the bonds of friendship and the complications of teenagers' lives. Smart readers will find a heroine in girly, intellectual Gigi-all the while winking at her nerdy jokes." — Publishers Weekly
"Gigi is a quirky, smart, endearing character with a wry sense of humor, and her strong friendship with Bea and Neerja is one of the high points of the book .... A great read to recommend to Meg Cabot fans." — School Library Journal
"Sarah Strohmeyer gets what readers want: a fresh, funny book full of likable characters, drama, and plenty of romance that kept me turning pages until late into the night." — Meg Cabot, bestselling author of ABANDON and THE PRINCESS DIARIES
"This realistic novel, with touches of humor, is a welcome addition to bookshelves." — Voice of Youth Advocates (VOYA)
"The author of The Cinderella Pact (2006) shows a humorist's ear for the cadence of teen language in this smart foray into teen literature." — Kirkus Reviews
"What a refreshingly realistic story about accomplished, ambitious and unapologetically intelligent teen girls! Full of wry observations about high school politics and drama, Smart Girls Get What They Want is for any reader still figuring out who you want to be." — Megan McCafferty, New York Times bestselling author of BUMPED and the Jessica Darling series
"Sex and the City meets Pride and Prejudice in this funny, smart and heart-warming book. Brainy babes, unite! This book is for you." — Patricia McCormick, author of SOLD and NEVER FALL DOWN
Balzer + Bray, 9780061953415, 368pp.
Publication Date: March 26, 2013
About the Author
Sarah Strohmeyer is a bestselling and award-winning novelist whose books include The Secrets of Lily Graves, How Zoe Made Her Dreams (Mostly) Come True, Smart Girls Get What They Want, The Cinderella Pact (which became the Lifetime Original Movie Lying to Be Perfect), The Sleeping Beauty Proposal, The Secret Lives of Fortunate Wives, Sweet Love, and the Bubbles mystery series. Her writing has appeared in numerous publications, including the Cleveland Plain Dealer and the Boston Globe. She lives with her family outside Montpelier, Vermont.
or
Not Currently Available for Direct Purchase