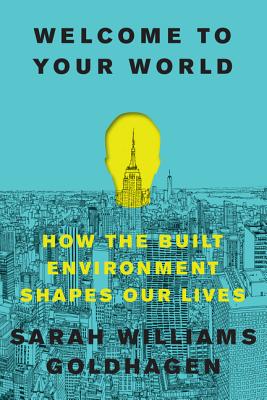 Welcome to Your World
How the Built Environment Shapes Our Lives
Hardcover

* Individual store prices may vary.
Other Editions of This Title:
Digital Audiobook (4/10/2017)
Paperback (3/10/2020)
Hardcover, Korean (8/19/2019)
MP3 CD (4/11/2017)
Compact Disc (4/11/2017)
Compact Disc (4/11/2017)
Description
One of the nation's chief architecture critics reveals how the environments we build profoundly shape our feelings, memories, and well-being, and argues that we must harness this knowledge to construct a world better suited to human experience
Taking us on a fascinating journey through some of the world's best and worst landscapes, buildings, and cityscapes, Sarah Williams Goldhagen draws from recent research in cognitive neuroscience and psychology to demonstrate how people's experiences of the places they build are central to their well-being, their physical health, their communal and social lives, and even their very sense of themselves. From this foundation, Goldhagen presents a powerful case that societies must use this knowledge to rethink what and how they build: the world needs better-designed, healthier environments that address the complex range of human individual and social needs.
By 2050 America's population is projected to increase by nearly seventy million people. This will necessitate a vast amount of new construction—almost all in urban areas—that will dramatically transform our existing landscapes, infrastructure, and urban areas. Going forward, we must do everything we can to prevent the construction of exhausting, overstimulating environments and enervating, understimulating ones. Buildings, landscapes, and cities must both contain and spark associations of natural light, greenery, and other ways of being in landscapes that humans have evolved to need and expect. Fancy exteriors and dramatic forms are never enough, and may not even be necessary; authentic textures and surfaces, and careful, well-executed construction details are just as important.
Erudite, wise, lucidly written, and beautifully illustrated with more than one hundred color photographs, Welcome to Your World is a vital, eye-opening guide to the spaces we inhabit, physically and mentally, and a clarion call to design for human experience.
Praise For Welcome to Your World: How the Built Environment Shapes Our Lives…
"[Goldhagen's] analysis is practical and accessible…. A valuable compendium to design analysis and the benefits of progress in contemporary design. An eye-opening look at the ways in which carefully planned and executed design and architecture can expand cognitive faculties and improve daily life."
— Kirkus Reviews

"Goldhagen's fresh perspective is deep, exciting, and optimistic."
— Booklist

"Goldhagen's book lays the groundwork for the cognitive neuroscience of architecture."
— Terrence Sejnowski, Francis Crick Professor at the Salk Institute for Biological Studies

"[A} feast for the mind…[with] a vital message: We can and must capitalize on this new knowledge to build more human-centered urban environments. It's a call to action we ignore at our peril."
— Colin Ellard, author of Places of The Heart and You Are Here



"Goldhagen's illuminating book on the design of our world begins just where it should, with us and how we live, not with a dazzling shell. She shows us many ways that good design can uplift our lives and how poor design can fail us."
— Barbara Tversky, Professor Emerita of Psychology at Stanford University

"A remarkable book and a fascinating exploration of the human experience in the city. Ground breaking, informed, and inspired."
— Mikyoung Kim, Landscape Architect

"Welcome to Your World will go far to help us create healthy, equitable, and thriving cities. This is extremely powerful stuff."
— Faith Rose, former Executive Director of the Public Design Commission of the City of New York Faith Rose, former Executive Director of the Public Design Commission of the City of New York

"Lucidly written in beautiful prose, Welcome to Your World will stimulate and delight professionals, students, and nonprofessionals alike. A must-read!"
— NADER TEHRANI, AWARD-WINNING ARCHITECT AND DEAN OF THE IRWIN S. CHANIN SCHOOL OF ARCHITECTURE AT COOPER UNION
Harper, 9780061957802, 384pp.
Publication Date: April 11, 2017
About the Author
Sarah Williams Goldhagen taught at Harvard University's Graduate School of Design for ten years and was the New Republic's architecture critic until recently. Currently a contributing editor at Art in America and Architectural Record, she is an award-winning writer who has written about buildings, cities, and landscapes for many national and international publications, including the New York Times, the American Prospect, and Harvard Design Magazine. She lives in New York City.